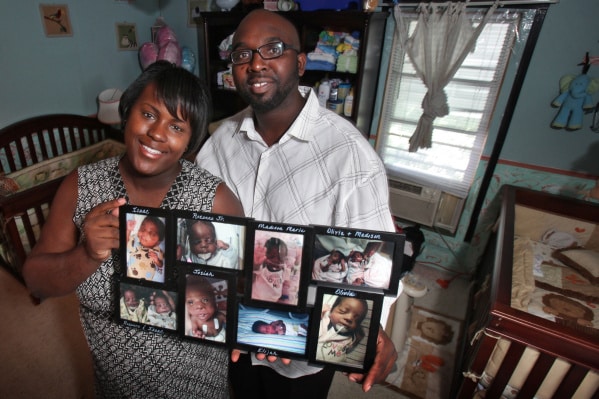 After 3 months of care at the Ohio State University Medical Center the last of McGhee sextuplets was discharged home yesterday.
The babies, 4 boys and 2 girls, made news in June when they arrived weighing between 1.5 and 2 pounds each. Now, mom Mia McGhee says her babies are plumping up and range in weight from five to seven pounds.
Baby Isaac was the last to be discharged from intensive care. He joins siblings Rozonno Jr., Josiah, Elijah, Madison and Olivia.
"He can breathe on his own," Mia said. "Just want to make he's ready because he had a lot of scar tissue."
Before leaving the hospital yesterday, a medical team of more than 50 people joined Mia and Rozonno McGhee and their children for a special goodbye party.
"I know the McGhees and I spoke of this day a long time ago," said Dr. Dave Colombo. "I don't know if they believed it would actually happen."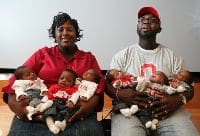 Hospital staff members gave the family gift baskets full of diapers, baby wipes and other supplies as well as gift certificates provided by Kroger.
"It's almost like that chapter is closed we're opening a new one," Mia said. "I'm happy I'm finally a mother. Like I said, last year we were mourning the loss of our twin boys, and now I have I have six."
The fun begins now. The family will likely need a small army of volunteers to help keep them on track. As many parents of sextuplets have said in the past, raising 6 children at once is a challenge – especially for first time parents.
Related Articles:
---