Drew Barrymore and Will Kopelman's daughter Olive was photographed out with a Nanny at the park on Saturday(January 19).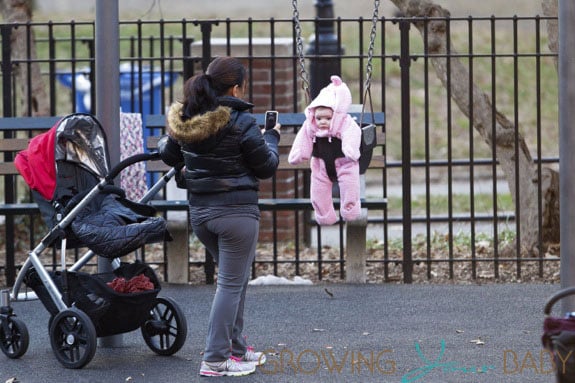 While bundled in a pink, fluffy snow suit, the 3-month-old baby swung as her nanny snapped photos of her.
In the Big Apple while Drew promotes her new make-up line, the family has been spotted out quite a few times strolling through the city.
During an interview with Oprah, the actress told the talk show host that Olive will take a different path than she did because 'she will have guidance'.
Born to John and Jaid Barrymore, Drew started into show business when she was very young and ended up in re-hab at 13.
Her journey to motherhood has some not-so proud moments in it that she knows her daughter will, someday, read about.
She does, however, have a plan of attack in the works.
"I will absolutely instill in her that you cannot be ashamed of the journey that it took to get where you are if you are proud of yourself," the actress tells Oprah Winfrey in Sunday's episode of Oprah's Next Chapter. "But I will also try and instill in her that I did not have guidance and that is why I lived my life that way."
Now 37, she has produced 13 titles, acted in over 64 shows/movies and even has her own winery. Clearly she's on the right track.
Last month Drew told Allure Magazine that she can't wait to introduce Olive to some of her earlier movies,
"My first goal is to show [daughter Olive] E.T.—I cannot wait until she's old enough—and then Ever After, because I want her to see that you can rescue yourself."
---
{PACIFIC COAST NEWS}
---
[ad]