Quintuplet births are extremely rare; only 37 infants were born in 2010 (the last year for which information on quints are available from the National Center for Health Statistics). But quints in Nebraska are especially rare; in fact, they just welcomed the third set to ever be born there. They are the Garcia quints, born to Bianca Garcia, 30, and Jose Garcia, 32.
The quints, Marah, Christobal (the only boy), Arleth, Jimena and Rosalyn, were born three months prematurely last Thursday at Methodist Women's Hospital in Omaha. All together, they weigh just a little over 10 pounds. Arleth, the biggest of the five, weighs just 2 pounds, 6 ounces.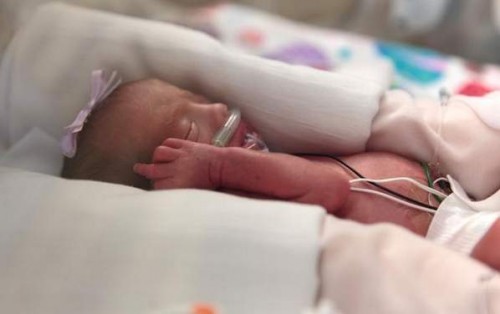 The couple first heard that they'd be having three children, but they eventually learned that their family was going to be much bigger than they had planned.
"It was shocking at first," Bianca said during a press conference at the hospital. "First we were told three, then we were told it was five. We said, 'Oh my goodness, what are we going to do?'"
Work hard to prolong pregnancy would be one of the answers to that question.
Bianca quit her job as a collections agent so she could take care of herself while carrying the quints. Then she spent more than 13 weeks on bed rest, 10 of which were at the hospital. By the time she'd neared the last few weeks of her pregnancy, she'd started using a walker to get around because her stomach had grown so large that it was getting too difficult to do so without it.
But each day that Bianca ticked off the calendar improved the outcome of her birth. And with each day spent in bed, she fought off another day of preterm labor and scary complications. And in the end, she carried all the way to 28 weeks – not bad as far as quints go.
"She handled it with amazing grace," Dr. Todd Lovgren, the couple's perintaologist told Omaha.com. "Being on bed rest that long is very, very difficult."
When it came time to deliver the babies, a team of more than 30 obstetricians, neonatologists and nurses filed into the operating room. After weeks of preparation, they had the delivery down to a science (at least the best you can when you're delivering that many babies). And the delivery was a huge success!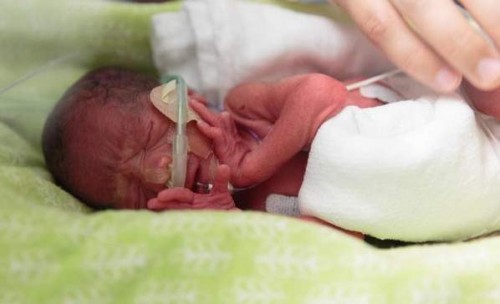 Starting with Marah, the babies were born within just two minutes of each other. Each baby was handed immediately to a team of four doctors and nurses who resuscitated them and then rushed them off to the level 3 NICU – a place reserved for the tiniest and sickest of all babies.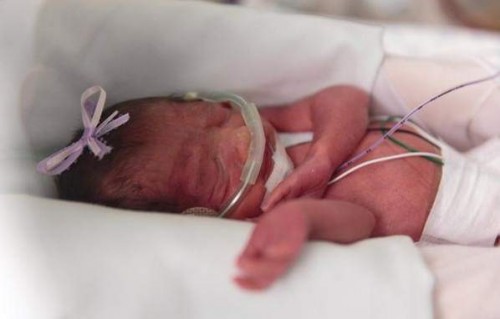 Primarily fed through IVs, the tiny miracles are so fragile that mom has only been able to hold two of them so far. But they're doing well, the doctors say, and the prognosis is good.
"We haven't had any real complications at this point, but we still have a long way to go," Dr. Brady Kerr, one of the neonatologists for the quints said at the press conference.
In fact, it'll probably take about 2 to 2 ½ months for the babies to be released. They'll have to meet some milestones, like breathing on their own and breast or bottle feeding. And, doctors will continue watching them carefully for complications that are common in premature and multiple births – underdeveloped lungs, intestinal problems and eye problems, just to name a few.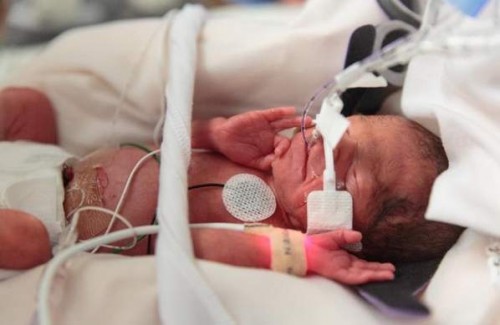 Still, the parents are hopeful that the quints will be able to come home and join their siblings, Jose, 9, and Abrahan, 7, soon – especially since Bianca will be released to return home on Monday.
"I was ready to go, but now that the babies are here, I don't know if I want to leave," Bianca said.
Part of the separation anxiety comes from the fact that Bianca and Jose are from Sioux City, which is a good 100 miles from the hospital where the babies are located. Though they plan to travel as often as they can, it certainly has to be difficult knowing that your babies are going to be so far away. Bianca and Jose are hoping to come up with some sort of a solution; they've even considered the idea of having Bianca stay in Omaha so she can breastfeed. As for Jose, he says he's trying to arrange some time off from his job at the Blue Bunny ice cream plant.
Of course, for now, they're just happy to have all five babies alive and healthy, even if they're "still not ready" for the amazing but crazy adjustment that is ahead of them.
"We're just glad that they're all here and they're all doing good, which was the primary worry," Bianca said.
Related Articles:
---
[ad]