In the right place at the right time.  A woman in Mesa, Arizona contacted the authorities after she stumbled upon an abandoned newborn in a baby carrier on Wednesday morning.
Roseanne McCulloh, said that the baby's umbilical cord was still attached when she discovered the baby.
"I went to touch her and she moved and I went she's alive," she told 12 News.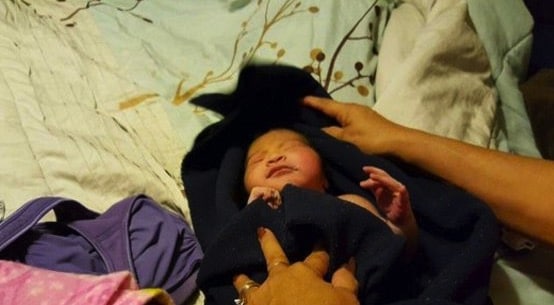 "It's been surreal," Roseanne said. "How do I feel about it? God is good. We drove up and down our street yesterday and we said they could've left her at any one of these houses. But they left her at our house."
Police say the baby girl, who is 7 pounds, 8 ounces and about 20 inches, appears to be a Hispanic or Native American baby.
"She's just beautiful. She has hair, she has poundage, she's great. She was breathing well. They say she's doing well in the hospital," said McCulloh.
This morning Mesa Police Department spokesman said police had "no leads" in finding the parents.
Anyone with information about this baby can contact Mesa police at 480-644-2211.
Arizona has a Safe Haven Law.  Passed in 2001,it states that a person will not face criminal charges for leaving an unharmed newborn baby under 72 hours old with a Safe Haven provider, including hospitals, fire stations, on-duty fire fighters or emergency medical technicians, and designated private welfare agencies, adoption agencies and churches.
Last week a Fire station in Indianapolis reported that, for the first time since Indiana's law was enacted 16 years ago, a baby was surrendered safely.  That newborn was later taken to the hospital for observation and later released to the state in foster care.
In this case there is a fire station less than a block away from where the baby was found. If found, the baby's parents could face a child endangerment charge.
---
[ad]