Tiny baby Dhruvi has survived for months so far, despite being one of the tiniest premature babies born in India. The little girl, whose names means "firm" in Sanskrit, was only 1 pound and 3 ounces at birth, or 540 grams.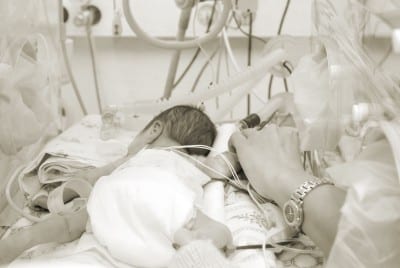 When Shweta Udaani was six months pregnant she was hospitalized with dangerously high blood pressure. When tests showed that the baby was not receiving enough oxygen and was not growing properly, doctors performed an emergency cesarean section. No one was certain whether the tiny girl would survive.
Dhruvi has been on a ventilator in the Neo-Natal Intensive Care Unit at the Breach Candy Hospital since her February 9 birth. After undergoing several medical procedures, she was finally released to go home on May 11. Now, at for months old, she is more than 3 pounds and gaining weight. Her mother, Shweta, is waiting for the little girl to become large enough for average-sized baby clothes.
"The tops meant for newborns are like nighties for Dhruvi because she is so small," she said.
Neonatologist Dr Cyrus Contractor said that babies as small as Dhruvi only have a 25-50 percent chance of surviving, even with the best NICU care.
"At 28 weeks of pregnancy, babies weigh around one kilo but Dhruvi's weight was just 540 gm. It further dropped to 480 gm in the first week," said paediatrician Dr Pankaj Parekh. "It is rare for such small babies to survive."
Parents Shweta and Uday Udaani have nicknamed their daughter Twinkle because they consider to be their "little star". – Summer, staff writer
Related Articles:
*stock photo*