Near Waegitaler Lake, a small family ascended up the Baerlaui Alp in Switzerland in a cable car. Tragically, that car, which was intended only for freight use, suddenly lurched and tipped the mother, 31, the father, 38, and the little girl, 1, out onto the rocks nearly 100 feet below. The mother and father both suffered head wounds and died on impact. Their little girl miraculously survived, however, thanks to the rucksack she'd been placed in.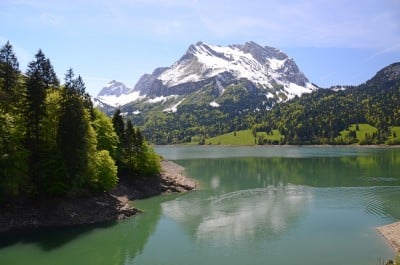 "The rucksack cushioned the fall," rescue spokesman told Daily Mail UK. "Otherwise, she would be dead too."
Within thirty minutes of the fall, two dozen rescue crews were on the scene, using helicopters and all-terrain vehicles to reach the family. They found the little girl in bushes after hearing "murmurings." She'd suffered from some serious injuries and was rushed to a nearby hospital.
Nurses have nicknamed this little girl Eidlweiss after a hardy mountain flower which only survives in the harshest of regions. And the name seems to be quite fitting. Despite her serious injuries, she is reportedly well enough that the hospital staff have started to contact relatives of her parents.
"The child is out of danger, and we are contacting relatives of the dead abroad," police spokesman, Florian Grossmann, said.
According to officials the father, a Swiss native, had brought his Canadian wife and daughter for a holiday. However, it is unclear as to what went wrong or why they were riding the freight car in the first place. They hope to discover the answer to that question during their investigation.
"We have no cause as yet as to why the cable car halted and then suddenly tipped over…We are investigating how they came to be aboard and why," Grossmann said. "But it was not designed for passenger use; that much is certain."
Grossman told the Daily Mail UK that the car was being used on the day of the accident by an Alpine employee; that employee has been arrested after making 'contradictory statements' to police officers on the scene of the accident.
Related Articles:
---
[ad]