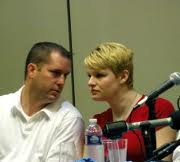 Just a couple days after welcoming sextuplets, new parents Stacey and husband Brendan Carey have revealed details of their babies arrival.
The couple, who are already parents to 16-month-old daughter, Julianna, say their 'family of nine is now complete.'
The babies – Emma, Samantha, Olivia, John, Patrick and Connor – were born on June 1st at 27 weeks gestation by cesarean section weighing between 1 pound, 1 ounce and 2 pounds, 5 ounces.
Doctors said the Careys conceived while working with a fertility specialist.
"We weren't expecting a family this big, but we're happy now," the smiling mother said at a news conference at the hospital. She said she was "very, very surprised" when first told she was having sextuplets.
Dr. Gerard Michael Cleary, medical director of the hospital's neonatal intensive care unit said "They are all responding to therapy.  They are in no way out of the woods."
All of the babies are currently being fed Carey's breast milk through a feeding tube. If all goes well they should be able to be home by their original due date.
The sextuplets arrival is one that had been planned for many weeks.  Hospital officials said they had developed a specialized team for the delivery and about 60 people were involved on the big day.
"They did what they do every day, but they did it six times," said Barbara Wadsworth, the hospital's chief nursing officer.
The new mom said she was feeling good just 5 days after the delivery.
The couple will undoubtedly need help from friends and family in the days, weeks, months and years ahead.
"We'll definitely need their help," she said. "We know that we have a lot of challenges ahead."
Congratulations to the Careys.
---
[ad]