It was a girls day out for Padma Lakshmi and her daughter Krishna on Monday(August 5th).
The pair were photographed strolling through the West Village before stopping for lunch at Bar Pitti restaurant.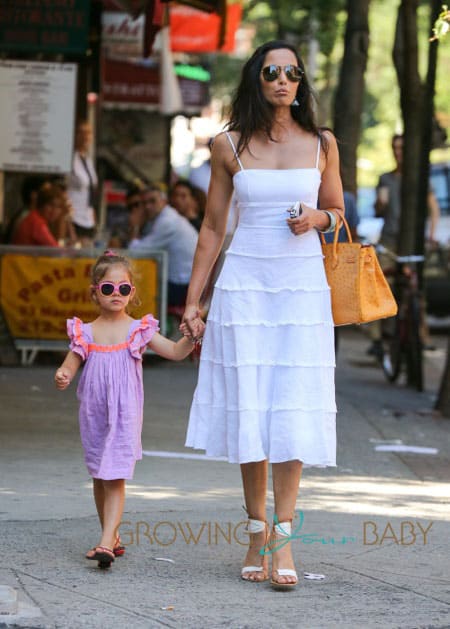 The Top Chef host and her little sweetie were super cute while they waited for the meals to arrive.  A smiley Krishna sat on her mom's lap and cuddled in for a smooch.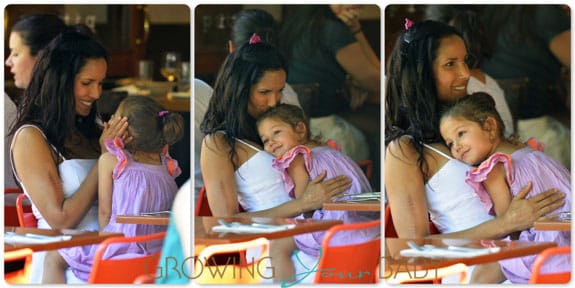 The pair looked happy to be back in the Big Apple after spending the last couple months in New Orleans while Padma filmed her hit show.
During an interview with Nola.com the TV host revealed that loved the New Orleans and spent quite a bit of time touring the city!
She had a great time. She went to the aquarium three times. She went to the Insectarium. She loved the butterfly garden there. She went to the IMAX theater several times. And then she went to not only the zoo, but she went to the (Global Wildlife Center). She also had a pool party at John Besh's house that was arranged for her impromptu, which was lovely. She had a beautiful pool at the hotel, of course, but she just had something to do all the time. She also feels very much a part of the crew, and so she really enjoys coming on-set. I don't take her when it's a really long day or we've got a location for an elimination challenge, but she likes to come to work during the Quickfire days because it's all in the kitchen.
---
{PACIFIC COAST NEWS}
---