One glance at Pale Cloud's collection tells you everything you need to know. This label is classy, elegant, and extremely fashion forward, making it hard to miss in the world of children's fashion.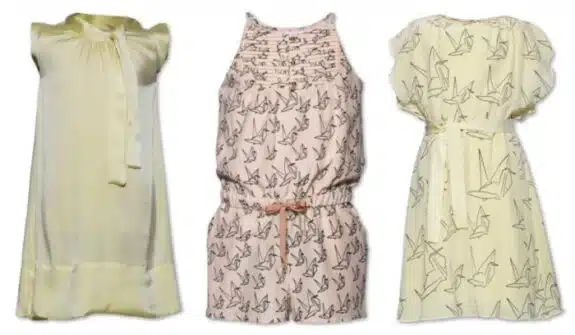 From the soft, billowy materials to the chic, feminine cuts, the label's collections ooze luxury and refinement. Directed and founded by Oslo, Norway native Marion Reynolds, Pale Cloud's mission is to show its dedication to the expression of style through our children with its fresh, beautiful designs. Each piece is finely made and sumptuous, forgoing busy detail for crisp, modern style with delicate, romantic touches.
Reynolds' experience studying at ESMOD, the premier French design university, lends its hand to the label's inspiration. Its collections are made with the finest fabrics and yarns to reinforce its commitment to high quality and detail.
The Spring/Summer 2014 line is filled with pale pinks, creams, and greys, with tailored necklines and ruffled shoulder designs, as well as light, feminine skirts and playful, pretty dresses, like the yellow Drew Dress. We love this one! Pale Cloud really has a knack for combining effortless elegance and casual, relaxed dress for girls.
We see why celebrity moms like Katie Holmes and Jessica Alba have chosen to dress Suri and Honor in these gorgeous designs!
---
Save