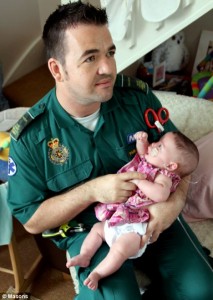 When Emily Thomlinson gave birth to her baby at only 26 weeks, the paramedics knew they had to act fast to save the tiny baby's life. That is when paramedic Rob Dalziel thought to use a medical waste bag and a few towels to keep the premature baby warm and alive until they could get to the hospital.
Baby Sophie was born 14 weeks early, weighing only 1lb 15oz. Though mother and child were on the way to the hospital, the ambulance did not carry an incubator as a standard. Racing through a blizzard, they new the tiny girl needed to be stabilized and kept warm.
Dalziel used a yellow medical waste bag as a make-shift incubator around the tiny girl, then wrapped her in towels to keep her body warm. He then spent the drive to the hospital forcing air into the girl's lungs to keep her breathing and alive. Despite her premature size, Sophie survived.
Giving birth 14 weeks premature is not ideal, especially on the side of the road. This is the last thing I expected when I got pregnant.

'I've massive respect for the ambulance crew and the NHS. They were really incredible.

'After Sophie was born she gave a little cry, but it was another 10 minutes before we reached the hospital.

'I was really worried and I did not know if Sophie would still be alive when we reached the hospital.
The little girl spent two weeks in the hospital's ITU before being transferred to the High Dependency Unit at John Radcliffe Hospital, Oxford. Now, at six months old, Sophie has been released home with her parents and is growing well. She has already grown to 9lb 11oz.
'She is settling in really well at home , although she does have some scar tissue on her lungs from when she was ventilated. We had a glass of Champagne to celebrate and the last few weeks have been brilliant.'
– Summer, staff writer
Related Articles:
---
[ad]