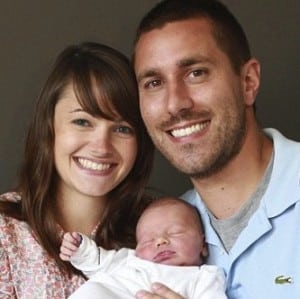 What could be a better birthday present than welcoming your very first baby into the world? Both of little Mason Parker's parents received this amazing gift because now, all three – mom, dad and Mason, share the same birthday.
Born at 11:30 p.m. on July 19th at the Long Island Jewish Medical Center, mom and dad weren't sure that Mason was going to make it on time. When the doctor walked in, however, the nurse shared the news that it was the birthday of both parents. After hearing this news, the doctor stated, "We can have three birthdays today. Let's get this show on the road."
Both parents were rather skeptical that Mason could make his entrance on their birthdays since they had been told that many first time mothers delivered later rather than early. However, they still had a bit of hope. Then, the night before their birthday, Jacquie Parker, mom, started feeling cramps that kept getting worse. By 3:30 in the morning, Jacquie and Paul, dad, decided to take a trip to the hospital.
As it turned out, it was labor. From start to end, it lasted for 24 ½ hours and Mason was born at 8 pounds, 4 ounces and measured 20 ½ inches long. Still recovering at the New Hyde Park Hospital, mother Jacquie told reporters, "I feel wonderful!"
For next year's birthday, Jacquie will be 30. Paul will be 33. Little Mason will be turning one. Paul laughed at the thought of next year's birthday, stating that it appears he will have to plan the party. I can only imagine what a joyous party it will be!
---
[ad]