Often, in an attempt to save a person's life, doctors need to think outside of the box when planning a patient's treatment.  Today Bruce & Elise Saiaana are thankful for the persistence the doctors at Seattle Children's Hospital showed when looking after their baby, because – after they had exhausted many of their options – an unconventional treatment ended up saving their baby's life.
When Tatiana Saianna was born Aug. 29 she was diagnosed with Meconium aspiration, a syndrome that occurs when a newborn baby breathes a mixture of meconium and amniotic fluid into the lungs during their delivery.
In some cases, the baby passes meconium while still inside the uterus. This will happen when babies are "under stress" because the supply of blood and oxygen decreases. This is often due to problems with the placenta.
Tatiana was quickly transferred to Seattle Children's Hospital after her lungs collapsed and she was put on an ECMO (extracorporeal membrane oxygenation) machine, which bypassed her heart and lungs – doing all of the work for her. After a month on the machine doctors were able to see her lungs still weren't developing and it was unlikely she could survive off the machine.
Her parents were told to prepare for the worst.
"I wasn't going to give up on my daughter," Bruce Saiaana, Tatiana's father told KIRO 7.
"She was still fighting so we had to fight for her too," added her mother, Elise Saiaana.
Looking for more options, neonatologist Dr. Kendra Smith suggested trying Perflubron, a liquid ventilation drug that was used in the '90s. The drug, which isn't currently FDA-approved in the United States, is approved for use in Canada and Europe.  While it was scrapped after the manufacturer found it had little use in adults, there were some studies done in the 90s that showed it offered benefits to premature infants with severe respiratory distress syndrome.
After getting an emergency exception waiver, Seattle Children's Hospital administered tiny amounts of Perflubron to carefully expand Saiaana's lungs. Initially, the treatment didn't work, but soon then they started to see improvement and Tatiana started to breathe on her own.
Three and a half months after welcoming their baby girl, the couple was able to bring her home on Dec. 15.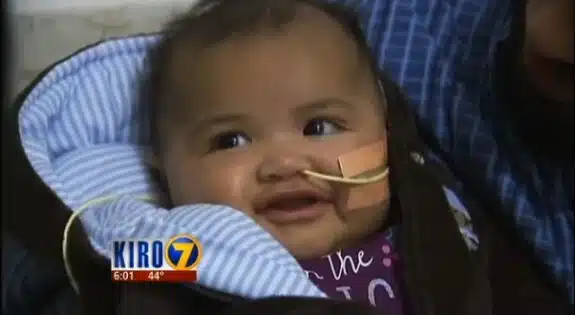 "The gift of having her home is the only gift we wanted this Christmas," said Elise Saiaana watching her baby girl.
---