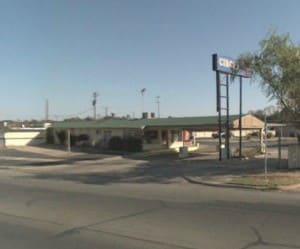 In yet another shocking case of parents forgetting the role of being a parent, a 6 day old infant was left alone in a hotel room crying while his mom and father went out. Police have charged the couple with abandonment and endangering the baby.
At around 8pm on March 19th, Police officers were called to the Circle Inn in Wichita Falls, Texas where they heard a child crying in one of the rooms.
The room was locked but through an open curtain the officers could see a television set that was on but no one could be seen in the room. The hotel manager unlocked the room to find the baby alone.
The six day old infant was propped in a car seat with a blanket around him but his hands and feet were cold. After 15 minutes, a woman returned to the room saying she was the mother.
When the police checked the hotel surveillance camera, they saw her leaving the hotel 42 minutes before the officers arrived with a man. This implies that the infant was left for almost an hour all alone in the room.
The man was later found to be the child's father and he admitted that the mother had been smoking methamphetamine. He also added that he had left the hotel to get a sandwich.
The pair, who have been identified as 27 year old Amber Herring, and 25 year old Kenneth Gillam, have been arrested with bonds set at $50,000 each.
---
[ad]