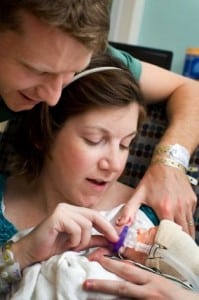 Because of such a high level of media attention, Texas sextuplet parents Lauren and David Perkins had stopped making updates on their website. But they have finally spoken publicly on the progress of their little brood in a press conference at the Texas Children's Pavilion for Women where Lauren had given birth and the infants are currently receiving treatment.
"We are overjoyed to have finally met our six children and are comforted knowing that they are growing stronger and healthier each day," Lauren told reporters. "We are also very thankful for the physicians and staff at the Pavilion for Women who cared for me throughout my pregnancy, delivered our babies safely and continue to provide the best care for our little ones as they grow and thrive in the NICU."
The Pavilion provides care specifically to women pregnant with multiples and their babies. It is the only center of its kind and they offer genetic counseling, fetal imaging, maternal fetal medicine expertise and nutritional guidance, creating a "road map" for the complicated pregnancy and birth of high order multiples. A lot of work goes into planning that road map – it took more than a month to plan for Lauren's labor and delivery and they went through two simulated births, just to make sure that everyone was well prepared. In the end, there were 35 participants in the labor and delivery process, helping to bring the Perkins' sextuplets into the world safely.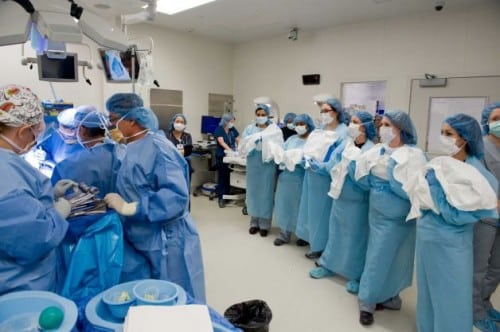 Their care is also rather grandiose at the moment as well, the six new members to the Perkins family – three boys and three girls: Andrew Noah, Benjamin Luke, Levi Thomas, Allison Kate, Caroline Grace and Leah Michelle – are all cared for in three connected neonatal units. But they're not there alone – mom and dad get to stay right there at the Pavilion in the private NICU rooms, and they're loving every minute of it!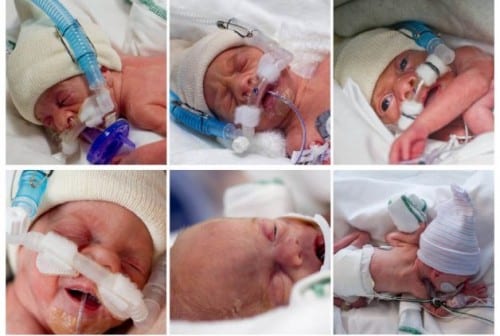 "We love being able to stay close to our babies during this time and feel so blessed that they are growing stronger every day," Lauren said.
Getting stronger they are! Five out of six of the babies are now breathing on their own and four of them should now be ready to breastfeed, according Dr. Charles Harkins, the physician in charge of the infants' daily care. The only one that seems to be struggling right now is little Leah.
"Leah is a very sick little girl," said Lauren. But her husband added that Leah is a "fighter."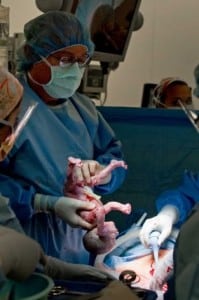 Lauren had pushed her pregnancy all the way to thirty weeks, which is very uncommon for such a high order birth, but little Leah started showing signs of distress, prompting the need for immediate delivery. Right now, she requires a ventilator and help with her circulation. She also needed an operation shortly after birth.
But so far, the prognosis looks good, even for Leah. Despite the fact that all of the babies weighed under 2 pounds, 15 ounces, they were more developed than many sextuplets. And at 30 weeks, the survival rate is averaged at 95 percent, and that's with no health complications.
"Delivering high order multiples is always a high risk situation for both mom and newborns and, at this early stage, the babies require constant observation," said Dr. Stephen Welty in a prepared statement. "In the first weeks of life, the Perkins sextuplets have been progressing well and overcoming the challenges that face premature babies."
Doctors also shared that the infants are not expected to go home before their official due date and that they are not expected to return home at the same time.
A big congratulations to Leah and David on the safe delivery of all six of their infants. We hope to hear good news about Leah soon and wish them all the best with their beautiful brood.
Related Articles:
SOURCE, SOURCE
Images:A. Kramer/Texas Children's Hospital
---
[ad]