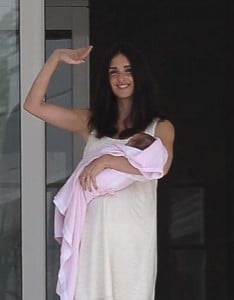 Congratulations to Spanish Actress Paz Vega and husband Orson Salazar on the safe arrival of their second baby – a girl!
Ava Salazar was born in Madrid on June 17th weighing a healthy 7 lbs., 2 oz.
"Paz and Ava are both healthy and enjoying being at home," her rep Marcel Pariseau confirms to Celebrity Baby Blog. "Paz and Orson are both so excited about the new addition to their young family."

Due to the baby's positioning, Paz needed to undergo a cesarean to deliver her daughter. "She was transverse in my womb, so they had to perform a c-section," the actress explained in interviews with the Spanish press.

While the 33-year-old is "happy" that the delivery went perfectly, she laughs that baby Ava is keeping everyone on their toes with her voracious appetite.

"The baby has come big and with lots of interest in eating! Ava is a big little lady who was born at 7 lbs. and for a girl, that's really good."

The new baby joins big brother Orson, 2, who is happily taking on his new role. "He hasn't had any type of rejection toward the baby," reports Paz. "On the contrary, he gets close to her … and says, 'Ava, my baby!'" before running off to play in the garden adjoining the hospital room.
---
{INFphoto.com}
---