Health Canada yesterday issued a recall of select Love Child Organics brand and PC Organics brand baby food pouches from the marketplace due to packaging defects that may allow the entry of spoilage microorganisms. Consumers should not consume the recalled products described below.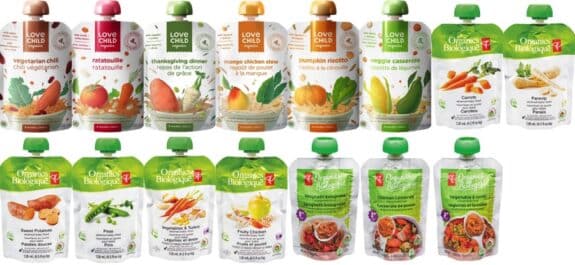 Consumers are being asked to check to see if you have recalled product in their home. Recalled products should be thrown out or returned to the store where they were purchased.
Spoiled packages may not be necessarily dangerous and may be identifiable. However, if spoiled food is inadvertently consumed, it is advisable to watch for symptoms that may include upset stomach, vomiting and diarrhea.
While there have been no reported illnesses associated with the consumption of these products,
the recall was triggered by consumer complaints. The Canadian Food Inspection Agency (CFIA) is conducting a food safety investigation, which may lead to the recall of other products.
Affected products:
Affected products

| Brand name | Common name | Size | Code(s) on product | UPC |
| --- | --- | --- | --- | --- |
| Love Child Organics | Vegetarian Chili with Sweet Potato + Kale | 128 ml | All Best Before dates up to and including 2019MA25 | 85886000170 |
| Love Child Organics | Veggie Casserole with Lentils + Quinoa | 128 ml | All Best Before dates up to and including 2019MA25 | 85886000171 |
| Love Child Organics | Ratatouille with Lentils + White Beans | 128 ml | All Best Before dates up to and including 2019MA25 | 85886000172 |
| Love Child Organics | Pumpkin Risotto with Spinach + Chickpeas | 128 ml | All Best Before dates up to and including 2019MA25 | 85886000173 |
| Love Child Organics | Mango Chicken Stew with Spinach + Quinoa | 128 ml | All Best Before dates up to and including 2019MA25 | 85886000174 |
| Love Child Organics | Thanksgiving Dinner with Veggies + Turkey | 128 ml | All Best Before dates up to and including 2019MA25 | 85886000175 |
| Love Child Organics | Hearty Bolognese with Beef + Quinoa | 128 ml | All Best Before dates up to and including 2019MA25 | 85886000176 |
| Love Child Organics | Carrots strained baby food | 128 ml | All Best Before dates up to and including 2019MA25 | 060383172800 |
| PC Organics | Parsnip strained baby food | 128 ml | All Best Before dates up to and including 2019MA25 | 060383172817 |
| PC Organics | Peas strained baby food | 128 ml | All Best Before dates up to and including 2019MA25 | 060383172824 |
| PC Organics | Sweet Potatoes strained baby food | 128 ml | All Best Before dates up to and including 2019MA25 | 060383172831 |
| PC Organics | Vegetables & Turkey strained baby food | 128 ml | All Best Before dates up to and including 2019MA25 | 060383174408 |
| PC Organics | Fruity Chicken strained baby food | 128 ml | All Best Before dates up to and including 2019MA25 | 060383174415 |
| PC Organics | Spaghetti Bolognese strained baby food | 128 ml | All Best Before dates up to and including 2019MA25 | 060383193201 |
| PC Organics | Vegetable & Lentil strained baby food | 128 ml | All Best Before dates up to and including 2019MA25 | 060383193218 |
| PC Organics | Chicken Casserole strained baby food | 128 ml | All Best Before dates up to and including 2019MA25 | 060383193225 |