In the months before they had their daughter, Jami and Krista Contreras spent a lot of time searching for the perfect pediatrician. After several interviews, they felt like they'd finally found the perfect one – a Roseville pediatrician that took a holistic approach, complete with natural oils and probiotics. The pediatrician also knew the two women were lesbians, planning to raise a child together. But then, as they sat in an exam room, waiting for their 6-day-old daughter's first check-up, another doctor walked in.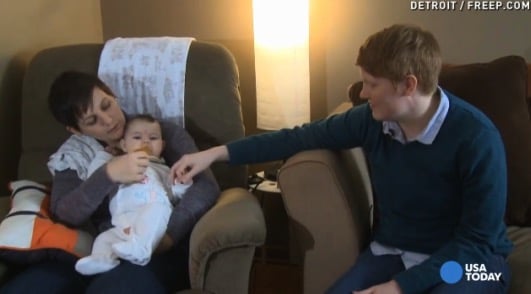 Jami and Krista were told that, after "much prayer," their pediatrician had had a change of heart; she'd decided that she couldn't treat their baby because they were lesbians. Needless to say, the couple suffered a bit of shock after hearing the news.
"I was completely dumbfounded," Krista told USA Today. "We just looked at each other and said, 'Did we hear that correctly?' . . . When we tell people about it, they don't believe us. They say, '[Doctors] can't do that. That's not legal.' And we say, 'Yes, it is.'"
It's just one of the many types of daily challenges that the lesbian, gay, bisexual, and transgender (LGBT) community faces. In fact, there isn't a single federal or Michigan (the state the Contrearases are from) that explicitly prohibits such discrimination.
At first, the couple didn't want to speak out about what happened that day at Eastlake Pediatrics last October; they just kept it to themselves and went on with their life. But after months of dealing with the pain and humiliation, they decided to break their silence and use their experience to help raise awareness about LGBT discrimination.
"We want people to know that this is happening to families. This is really happening," Jami told USA Today. "It was embarrassing. It was humiliating . . . It's just wrong."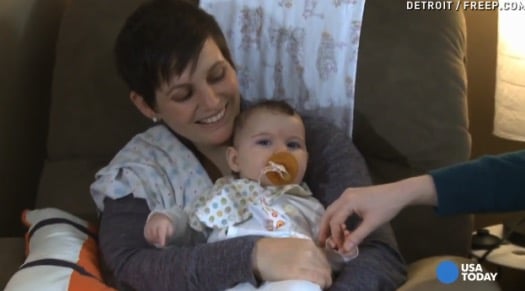 The pediatrician, Vesna Roi, who has been practicing pediatric medicine for 19 years, said she couldn't comment on the case, citing the HIPAA law. She did defend her commitment to helping children and their parents.
"My life is taking care of the babies," Roi told the Free Press on Tuesday. "I love my families, my patients. I love my kids. And I have become very close with all of my patients."
She also sent the Contrerases an apology letter, which was obtained by the Free Press.
"Dear Jami & Krista, I am writing this letter of apology as I feel that it is important and necessary. I never meant to hurt either of you. After much prayer following your prenatal [visit], I felt that I would not be able to develop the personal patient-doctor relationship that I normally do with my patients."
The letter, dated for February 9th, didn't mention anything about why Roi had felt that way, or if it had anything to do with Jami and Krista being lesbians. However, did apologize for not informing the couple of her decision in persona. She also stated that they were "always welcome" at the office, and that they could always be treated by another physician there.
To some, it might seem like an insignificant issue, one that should be ignored and moved past. But the real truth is, while Roi's refusal to treat Jami and Krista's baby may not be illegal, it can have some far-reaching ramifications, especially when you consider that EVERY physician has a right to not treat a patient based on sexual orientation, or the sexual orientation of their parents.
"Basically, the pediatrician handled this in an appropriate way. She turned them over to another doctor," Wayne State University Constitutional Law Professor, Robert Sedler, said of Roi's actions and decision. "[But] here you have a doctor saying I won't treat a baby of a lesbian couple . . . I think that's very troubling. It's clearly not illegal, but it certainly raises an ethical question."
Attorney Dana Nessel, who is handling the same-sex marriage Michigan case about to be heard by the U.S. Supreme Court, agrees. She says the laws need to change. If they don't, more families like the Contrerases are going to be mistreated by medical professionals.
"It's a very scary thing," Nessel said regarding doctors being allowed to refuse treatment to patients. "What kind of society are we that we would allow this to happen?"
Even the medical profession itself highly opposes the idea of refusing to treat patients or children of patients, based solely on the grounds of religious freedom and its relation to sexual orientation. In fact, the American Medical Association (AMA) and the American Academy of Pediatrics (AAP) have both taken a strong stance against such practices. But the prohibition in their ethics, unfortunately, only goes as far as an advisory to physicians.
"Respecting the diversity of patients is a fundamental value of the medical profession and reflected in long-standing AMA ethical policy opposing any refusal to care for patients based on race, gender, sexual orientation, gender identity, or any other criteria that would constituted invidious discrimination," Dr. Gregory Blaschke, chair of the AMA's LGBT Advisory Committee, said in a statement, adding that the AMA encourages "diversity, awareness, and cultural sensitivity in the medical profession."
But Jami and Krista say that these advisories, while comforting, just aren't enough. The laws need to change so that no one else in the LGBT community experiences what they've gone through. Because, at the end of the day, discrimination is discrimination. And, in Jami and Krista's case, the blow isn't just about their lifestyle; it's about their amazing daughter, whom they clearly love dearly.
"You're discriminating against a baby," Jami said. "It's just wrong."
Related Articles:
---
[ad]