As a way of expanding their pharmacy business, retail chains such as CVS, Walgreens and Target have set up health clinics for their customers. These are great places to get flu shots but when it comes to primary care for children, parents are urged to set up a more practiced medical home with a family physician. That is the advice of the American Academy of Pediatrics who went as far as to call these health clinics "detrimental." A major area of concern is the lack of quality care for children with chronic diseases or special needs. There just isn't the same level of experience medical guidance at these clinics that can provide a competent diagnosis or critical follow-up care.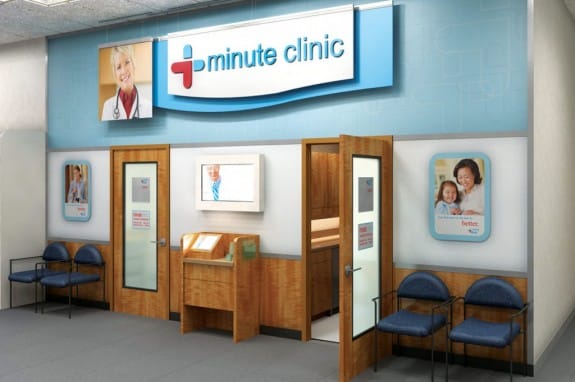 Then there is the issue of the public health that could be at risk as a result of "convenient care." A parent who brings a child with strep throat or the measles into a crowded store is putting every shopper in danger. This doesn't mean that experienced pediatricians are necessarily off the hook when it comes to providing care. The AAP is encouraging its members to be more flexible with office hours. They need to recognize that many parents have difficulty getting off during the workweek. Limited access to proper healthcare is the reason why these drug store clinics have gained traction.
"The AAP recognizes that convenience and access to care will continue to be important drivers of how health care is delivered," Dr. James Laughlin, lead author of the policy statement, said in a recent press release.
A recent survey published in JAMA Pediatrics found that around 23% of parents were bypassing their pediatrician in favor of seeking medical advice at one of the country's 6,000 drug store health clinics. Surprisingly, that same study found that many of those clinics weren't even staffed with a certified pediatrician. The following were the most common reasons why parents opted for store clinics as opposed to their doctor:
More convenient hours
Difficulty getting an appointment with their doctor
Not wanting to bother a pediatrician after hours
Not thinking the problem was serious enough for a doctor visit
The most common reasons why parents took kids to health clinics were for sore throats, ear infections and colds. What they are missing out on with those "quick fixes" is for a pediatrician to discuss other health concerns such as vaccines or development concerns.
"Visits for acute illnesses are important and provide an opportunity to work with patients and families to deal with a variety of other issues," wrote the AAP's Committee on Practice and Ambulatory Medicine in the press release. "We have been closely adhering to the principles of retail clinic practice of the American Academy of Pediatrics since they were released in 2006," Dr. Andrew J. Sussman, president of CVS' MinuteClinic, told CBS News. "In addition, many of our staff have family medicine backgrounds as well as extensive experience seeing patients in pediatrician offices, family physician practices and the ER."
If you must use a drugstore clinic for the convenience, then the best option would be to visit a clinic that has a relationship with your pediatrician. It will help if you can establish the kind of relationship with your pediatrician that will allow for the after hour calls. Otherwise, you should consider looking for a different doctor.
---
[ad]