One of the biggest recalls in recent months happened last week when Italian gear giant Peg Perego announced a recall of almost 223,000 Pliko P3 & Venezia strollers due to risk of entrapment and strangulation. Because there was a child death involved that occurred 8 years ago many asked why it took so long for the company issue the recall. A representative from the company contacted us to respond to some of the questions that parents might have.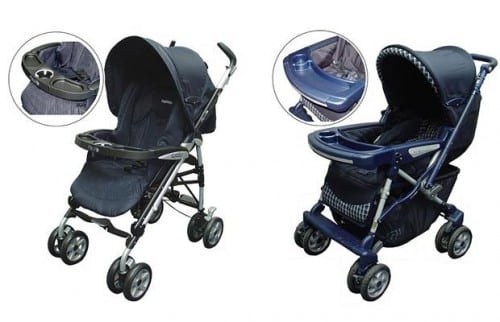 Why is Peg Perego recalling strollers in 2012 in response to an incident that occurred in 2004?
Unfortunately Peg Perego was not notified of this unfortunate death at the time of the incident. Once we learned about this incident in July 2010, we cooperated with the CPSC to determine the proper course of action and to find a solution, which resulted in the recall.
Why is the recall only on strollers manufactured before 2007?
The recalled strollers were manufactured prior to the existence of the January 2008 voluntary industry Standards which addressed the height of the opening between the stroller's tray and seat bottom. The voluntary Standards require larger stroller openings that prevent infant entrapment and strangulation hazards. In 2007 Peg Perego immediately modified all of their strollers to adhere to the new Standards. All Peg Perego strollers manufactured after 2007 meet these new requirements. Since products manufactured before 2007 may still be in use, or sold in the aftermarket, we decided to proceed with the recall.
What should I do if I own a recalled stroller?
Peg Perego is offering a free repair/prevention kit for these strollers; it can be requested by following this link http://www.pegperegousa.com/babyproducts-site/recall-notice. This repair/prevention kit is an additional passive restraint to be attached to the strollers to enclose the opening. Peg Perego would like to remind parents that proper supervision and the use of the safety harness (originally provided with the strollers) avoids risk of entrapment and strangulation.
Health Canada issued a safety advisory Friday, saying it received a report of a death in 2006 involving a baby left unattended and unrestrained in a stroller.
They did not, however, issue a recall, but said a safety review of older strollers will continue and could result in a recall. (The models of Peg Perego strollers recalled in the U.S. were not sold in Canada.)
---
[ad]