From news reports, it sounds as though the 25th was the day to have babies!  And while a couple of them arrived at the side of the road, and one on the train, a Myerstown couple was in the safety of the hospital when their premature triplets made their entrance on Christmas Day.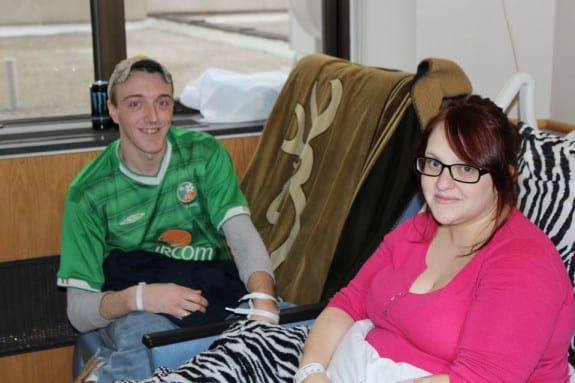 Courtney Stash, 25, was admitted to the hospital on Saturday Dec. 20 after she started experiencing early labor pains. Just 31 weeks along with triplets, doctors at Hershey Medical Center tried to stop her labor to give the babies more time to grow.
But at 10:30 a.m. on Christmas, the babies; identical twins Claire and Avaree and brother Eoin(pronounced Owen) arrived  via Cesarean section weighing 3 pounds 8 ounces, 3 pounds 10 ounces and 4 pounds 4 ounces, respectively.
The girls were born doing well, but Eoin had some fluid in his lungs and needed to be placed on the Continuous Positive Airway Pressure(CPAP) machine, for his first day.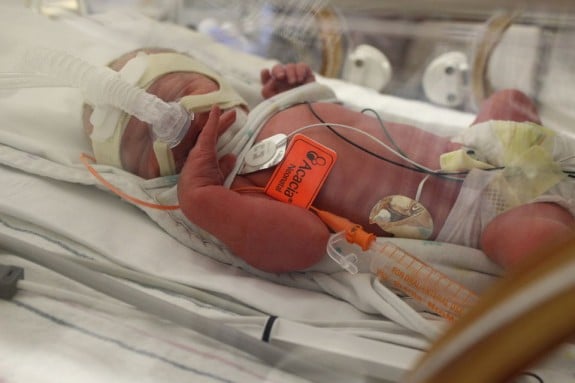 On Friday when was doing well enough to breathe on his own, doctors removed the tubes from his face giving his parents their first real look at their little guy.
"I was about to cry," said Justin Dwyer, 26,told Pennlive.com. "It was the first time I saw his face without the mask and all the tubes. He was so cute."
The babies will have to stay in the NICU until they can regulate their body temperatures and take all feeds on their own.
The couple found out that they were having triplets when Courtney was 6 weeks pregnant.  They knew there could be a possibility of twins, because they run on both sides, but hearing the news of three threw them for a loop.
"When we found out at the ultrasound, all I could say was, 'What are we going to do?'" the new dad recalled. "Courtney was all calm. She was saying, 'Is it cold outside? And all I kept saying was, 'What are we going to do?' Then she'd say, 'Can you remember to bring home some milk tonight?'"
The new babies will join Courtney's older children aged 5 and 2.  The couple has put together two of the three cribs they found at the Salvation Army.  They won three free car seats in a Lehman Volvo promotion and were gifted some of the other supplies they are going to need from friends and family at surprise baby showers that were held before the delivery.
Now all they need are their three babes to grow and get stronger so the family can be together at home!
---
[ad]