Well known for their strollers that accommodate parents of all lifestyles, Bumbleride's new Indie 4 stroller is perfect for both urban and suburban families who need a buggy to go everywhere they do.  For the last couple of months, we have been putting ours through its paces, and have been impressed with all of the features included with this stroller, and its performance while out in all conditions.  Not only is it nice to look at, but it is also perfect for trips to the park, mall, and everything in between!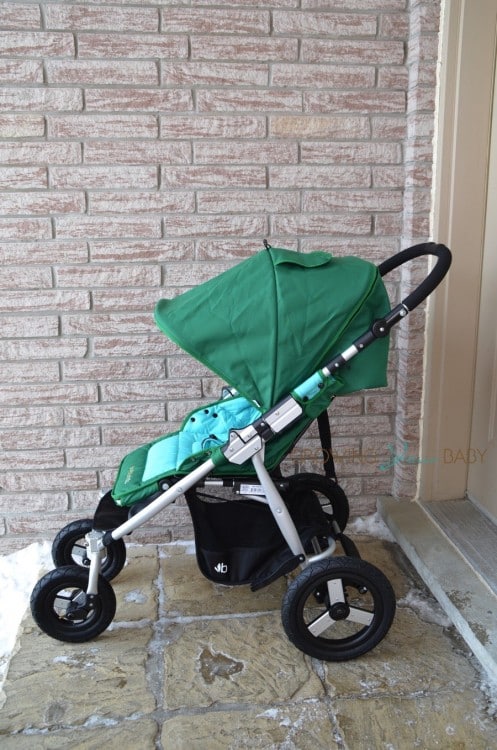 Out of the box all parents need to do to get going is pop on the back wheels, attach the front wheels and snap on the canopy.  The whole process is fairly straight forward and takes less than 10 minutes.
From birth parents can use the stroller three ways; with an infant seat(using the included attachment), with the optional bassinet(for babies 4-19lbs), or with the seat in the lying flat position. When not in use the bassinet can be folded down for easy storage.  To use it with the stroller there are some adjustments that you have to do that take about 10 minutes the first time, but it's not a conversion you will need to do every day.  The bassinet snaps in place after you remove the canopy(same slot), and the back fabric on the stroller.  Once in place facing you, the canopy can be connected to the bassinet and you are ready to stroll.  Measuring 31.75″ long, 10.5′ high and 15″ wide(13″ sleep area), this bassinet is a good size for a sleeping newborn, and it faces you so your baby is never out of sight.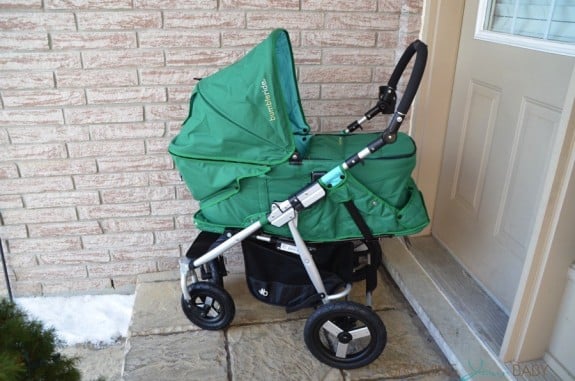 Designed for kids up to 55lbs, the stroller seat comes equipped with an adjustable 5-point harness, and breakaway straps to make it easy to reposition the harness as your baby grows.  The seat fabric is made from bamboo charcoal fiber, which is both soft and eco-friendly!  To give you better control of the angle your child is sitting at, Bumbleride uses an infinite recline.  A strap on the back of the seat can be adjusted to any position – including flat for a sleeping newborn.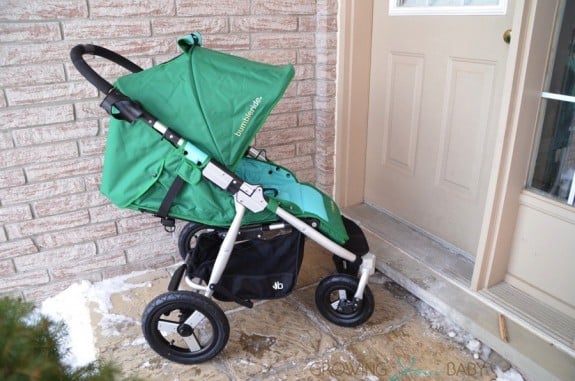 The seat has an adjustable footrest, and a reinforced space at the bottom of the frame, which can be wiped out easily for days when kids are wearing muddy or snowy boots.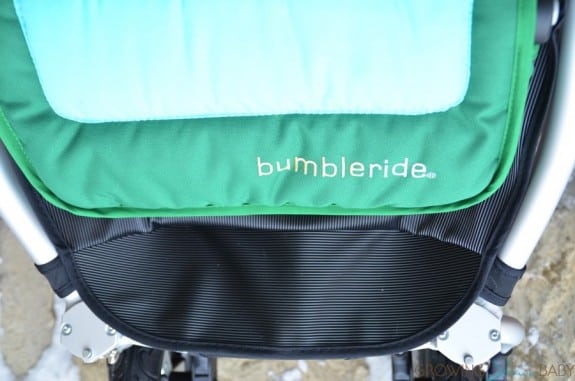 The canopy on the Bumbleride Indie 4 is both spacious, and sturdy. This canopy really impressed me while out during rain and snowstorms.  Despite the harsh wind, it doesn't blow backward – a feature that is very important for parents who need a good stroller to do the daily school run.  Bumbleride also offers an additional Rain Cover for the Indie 4 for those who want something to protect their child fully against the elements.
To allow you to keep an eye on your little one, the Indie 4 has a magnetic peek-a-boo window on the top of the canopy that can be fastened open to allow for better ventilation through the stroller.  The back of the canopy features a zippered pocket to hold your keys, money and phone.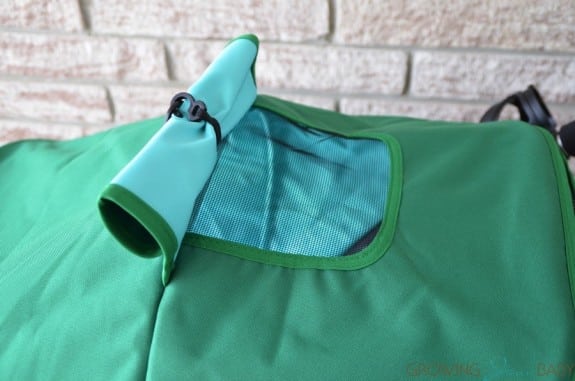 The shopping basket under the stroller is large enough to hold a big diaper bag, a change of clothes and some purchases.  It is wide open at the back for easy access, and reinforced with mesh all the way up to ensure your stuff doesn't fall out.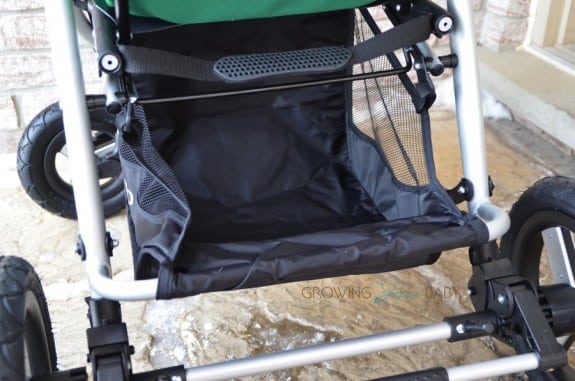 Two 8.5″ front, two – 12″ rear air-filled tires, and all-wheel suspension give the Indie 4 a very smooth push.  This stroller also goes over any terrain you put in front of it – including snow.  We are often asked which stroller performs the best in Winter, and I have to say the Indie 4 does a great job of going through the snow, gravel, soft sand and over uneven pavement.  It has been a pretty crazy Winter here in Ontario, which has given us lots of different conditions to try the Indie 4 out in.  Unlike its sister the Indie, it cannot be used for jogging, but it is a great stroller for everything from the trails to travel.
Parents of different heights will like that the Indie 4's handlebar adjusts from 25-43″.  It also has a cupholder on the side of the handle that could hold a standard water bottle or sippy cup.
The brakes on the Indie 4 are controlled with a linked bar that is easy to engage/disengage regardless of your footwear choice.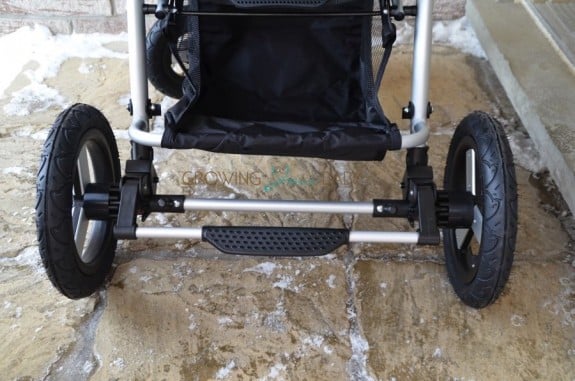 One of my favorites features of this stroller is the fold.  It is easy to do by releasing the levers on the handlebars, and pushing the seat forward – which essentially causes the stroller to fold in half.  Bumbleride uses 2 frame locks to ensure the stroller stays closed when folded, and a handle on the bottom of the frame makes it easy to transport the stroller to your car.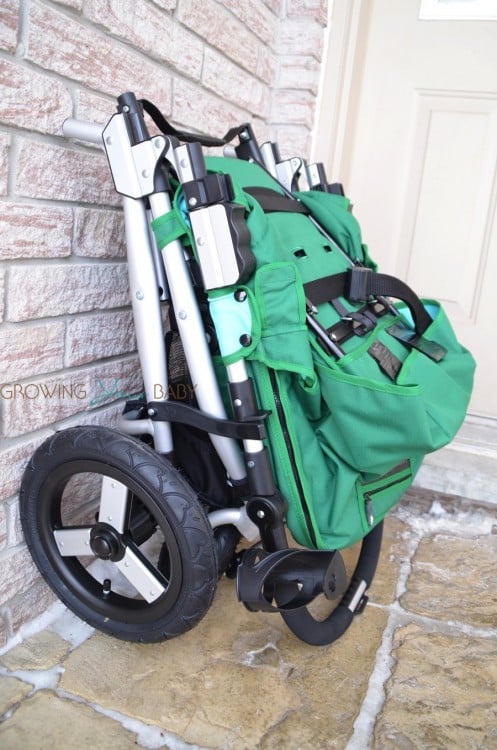 Indie 4 is a great stroller for parents who want to buy just one stroller from birth to pre-school.  It is large enough to keep your child comfortable every day and folds down to be compact enough to travel with you around the world! Please check out the full video review below!
The Bumbleride Indie 4 is offered in 7 colorways.
There are also quite a few accessories that parents can get to add more features to their stroller including.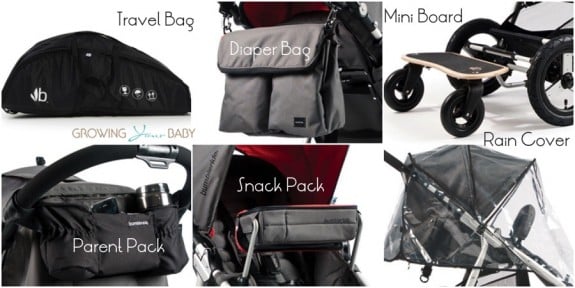 SPECS:
Weight: 22 lbs
– Capacity: 55 lbs
– Standing: 31L x 24.5W x 43H
– Folded: 29L x 24.5W x 15H
– Seat: 9.5L x 12W
– Backrest: 19L x 12W (seat to top of backrest)
– Canopy: 24H (seat to top of canopy)
– Footrest: 11L x 12W
– Handle Height: 25-43″
Thank you to Bumbleride for sending the Indie 4 for us to test.