One of the biggest challenges I have, when I am looking for a family vacation, is finding a destination that has a good balance of activities for my husband and me as well as the kids.
Located 10 minutes from the Cancun airport on the beach of Bahia Petempich, Azul Beach Resort is a beautiful boutique hotel that offers a lot of options for vacationing families. Last week I had the chance to stay at the resort and experience their incredible service firsthand.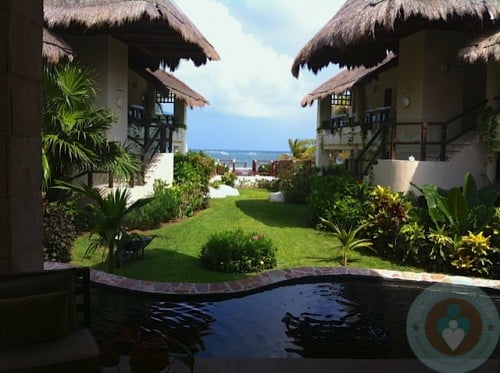 Just a few months ago Azul Beach underwent a massive 21 million dollar renovation. The hotel's first phase of renovations added two new restaurants, new suites, an expanded kids club, Sky wedding venue and a 150 seat theater.
When I arrived at the hotel the first thing that struck me was the personal check in service. Instead of standing at a desk, I was invited to sit in one of the seats in the lobby and was offered some champagne, while I filled out my information. At this time, I was asked which type of pillow I would prefer, which scent I would like used in my room and if I would like to take advantage of the amenities they offer for children.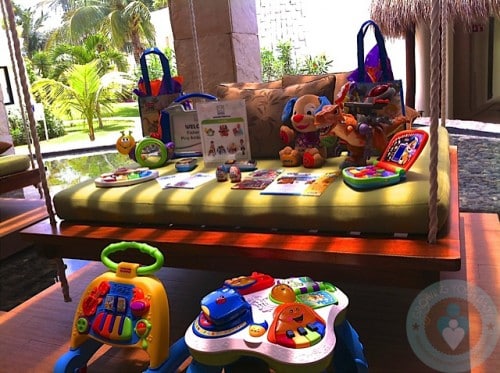 Rooms
For families, the hotel offers two beautiful rooms; the deluxe suite and the junior suite. During my stay I had the pleasure of staying in a family suite. My room was not only spacious and comfortable, but it was designed in a beautiful decor that was modern and functional.
When you first enter the room there is a bench, that is the perfect perch for beach bags, shoes and beach towels. Just under it you can store extra suitcases.
To the left of the entry there is an incredible bathroom complete with his and hers vanities, a private toilet, huge beautifully tiled shower with rain head coming from the ceiling and a oval jacuzzi tub.
Beyond the bathroom the magic could definitely happen in the Master Bedroom , which comes complete with a king sized bed, 32″ flat screen and half wooden accent wall that gives you a peek of the bathroom. I loved this because I could actually watch television while I relaxed in the jacuzzi – and I did relax in the jacuzzi!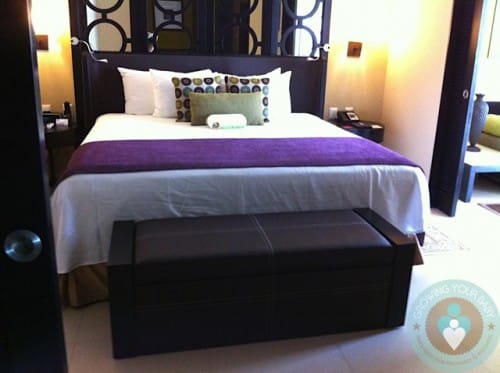 At the front of the suite there is a living room, which is equipped with an L shaped couch that sleeps 2-3 little ones, a second 32″ flat screen Television and dining area for 4.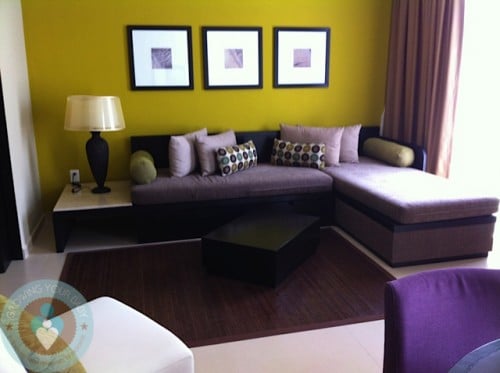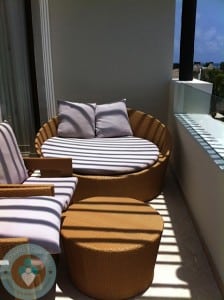 My room also had a spacious terrace that stretched the entire length of the room, with comfortable wicker loungers and a patio set.
Because I was on the third floor, I had views of the pool from my room and a trellis over top of the patio. Had I been on the first floor, my balcony would have had direct access to the pool that meandered through our section of the pool. This was the first time I had stayed at a resort that offered this option and I would jump at the chance to have it if I returned with my family. When coming home from dinner at night I would see other families at the resort playing pool volleyball and swimming around because it was so convenient. Plus, at night the pools are lit up, which creates a beautiful ambiance for honeymooners or mom and dad after the kids are in bed!
The deluxe room I toured was equally as beautiful, but without the dining and living areas. They have two double beds, a modern bathroom(complete with the double vanities and jacuzzi tub) and a small sitting area. This room was located in the newly renovated area of the resort, but was not available as a swim-up.
Currently, many of the family rooms are located on the South side of the hotel because they are very close to the beach and there is a pool there that isn't as deep for children. This section of the resort is scheduled to undergo renovations very soon and will look very similar to rooms I stayed in by December. They will not, however, have swim up pools, just walk out balconies.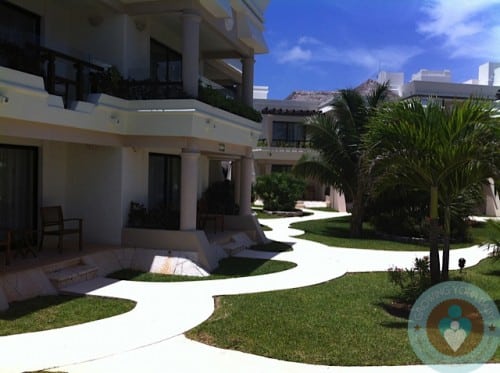 Dining
Azul Hotels offers a unique program called gourmet inclusive. All of their restaurants are open daily and all serve A la carte menus for their guests to order from. I may just be the pickiest eater on the planet and I was impressed with the selection at every restaurant. I am also not a huge lover of buffets when I'm on vacation so the option to order a meal of my choosing at all meals was greatly appreciated. The five dining choices you have are:
Blue – The main dining restaurant at Azul Beach is Blue. Located in the middle of the resort this open-aired restaurant serves Breakfast, Lunch Dinner, A la carte and food display(buffet). The menu includes a variety of options for all tastes including soups, salads, pizza and traditional mexican fare.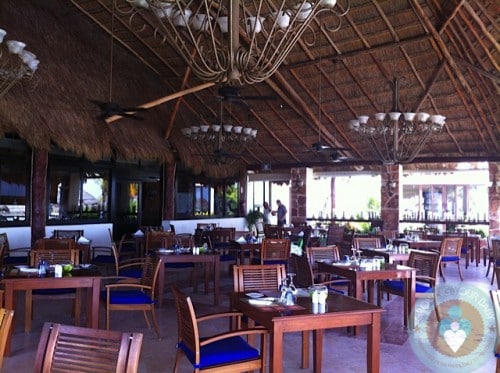 Chil – lunch and dinner A la carte. This beachside restaurant offers casual dining at lunch including burgers, fries, salads and wraps. For dinner, Chil offers mexican cuisine like seafood ceviche, taco soup, steak and deep-fried churros dipped in chocolate.
Tainan – (dinner service 6pm – 10pm) Sushi is prepared on the middle of an island and served on little boats that float around a river. Guests can also order from an A la carte menu that includes tempura, duck pad thai and steak. Children's menu available with traditional items on it.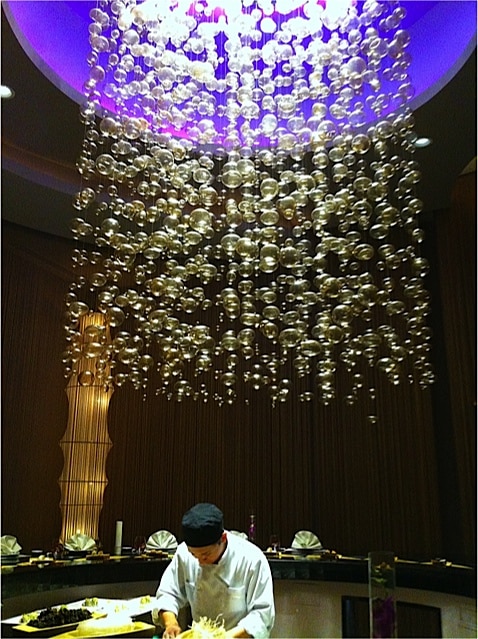 Roma – (dinner service 6pm – 10pm) Guests are offered Italian dishes such as Flat Bread Pizza, Pastas and entrees like Ossobuco, Mushroom Risotto and a lasagna with lobster bisque & shrimp.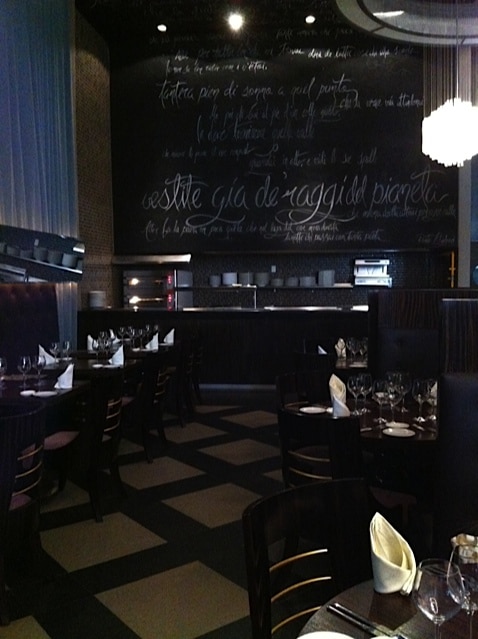 Latino – (dinner service 6pm – 10pm) – This vibrant restaurant serves 'culinary preparations from the Southern tip of the Americas up to the Northern part of Mexico.'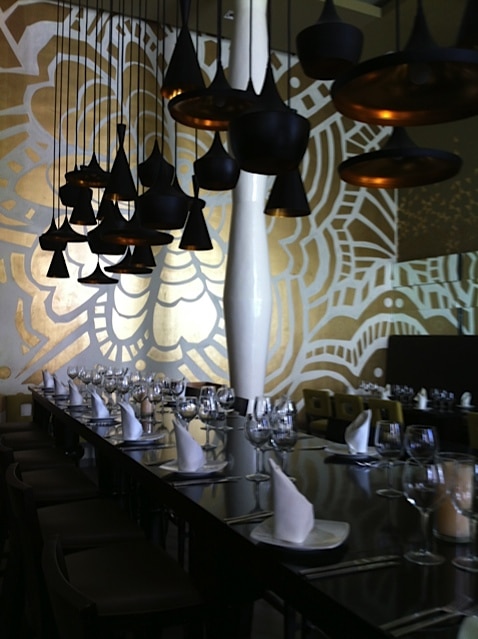 Kids
The Azul Beach excels at service for families. From their toy lending menu and Azulitos Playhouse(which I will write about separately) to play structures on the beach and kid friendly pool, this hotel goes above and beyond for their smallest guests. Parents literally only need to show up with their child, their clothes and diapers and wipes! Everything else can be found at the hotel. Baby gear like strollers, change tables, baby monitors, cribs, sterilizers and bouncers are all provided to families at check-in to reduce the stress of having to pack the whole house up before a week away. Azul Beach has also teamed up with Fisher-Price to create a very strong program for their little visitors. No child will ever get bored in their playhouse.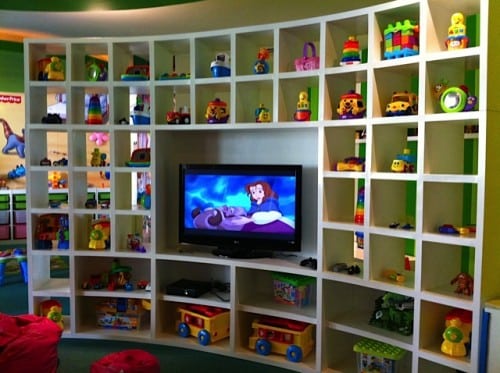 The Beach
When I arrived at Azul Beach the hotel was busy cleaning up after a big storm. The water had a lot of seaweed in it and some of the beach beds had been damaged. By our fourth day, the water had returned to the beautiful turquoise this area is famous for and many of the beds had been repaired and were ready for relaxation. The beach is not deep, but it is made of a gorgeous powdery, white sand and there are plenty of chairs and cabana beds for all of their guests. The hotel also has a beach volleyball court, a beach climber for kids, kayaks and Hobie cats for everyone to use. Snorkelers will love that there is a huge reef in front of the resort as well.
As you stroll through the property you will come across many pools and relaxation areas. One of my favorite spots was the 'bubbles' swim-up bar. Located between Villas 7,8,9 and 11, this space is filled with circular loungers, patio chairs and flat-screen TV's. Families can also play on a life-sized chess board and ping pong table or enjoy soft-serve ice cream and shakes prepared by Oscar the bartender. The pool surrounds three sides of the area so you can enjoy the view or take a dip and relax on the lounger when you are done.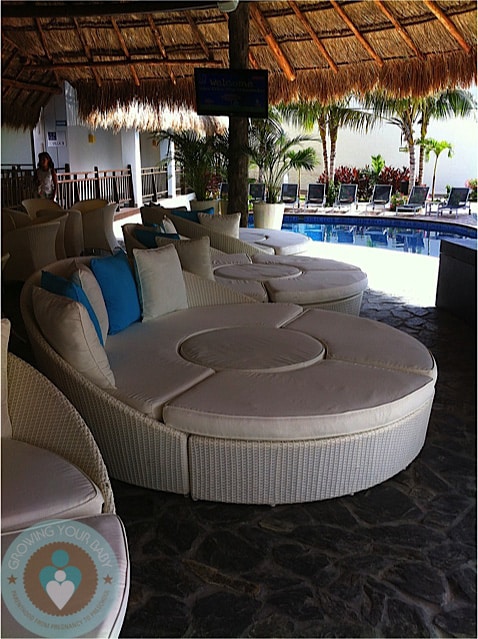 Spa
A vacation is not a vacation without some you time and Vassa spa offers a full range of treatments to ensure your time in paradise is heavenly. A beauty salon, fitness center, and Spa boutique all-in-one, the Vassa spa at Azul Beach also offers hydrotherapy facilities where you can relax in the herbal steam room, dry sauna, chromotherapy shower, whirlpool and cooHagoon. In addition, they also have a very sweet room for girls' treatments called perfectly pink, where your little one can have 'my first facial', an ice cream manicure or a chocolate pedicure.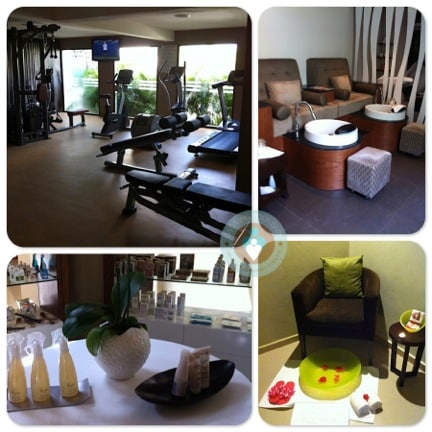 It is not very often that I feel depressed when I am headed home especially when the kids aren't traveling with me. But there is a very personal feeling that you get when you are staying at Azul Beach that makes you feel like you are at home. From the beautiful rooms to the professional staff, Karisma Hotels has done a great job of creating a destination that provides some much-needed downtime, while giving guests the comforts of home. Everything is very close, the rooms are luxurious and the atmosphere is casual. I am definitely counting the days until I can bring my family back to visit.
---
* Thank you for Karisma Hotels and Fisher-Price for hosting me for my 3-night stay in paradise.*
---