When DeNai Jones, head designer at Petunia Pickle Bottom, was expecting her second son recently, one of her prime goals was to create a unique nursery.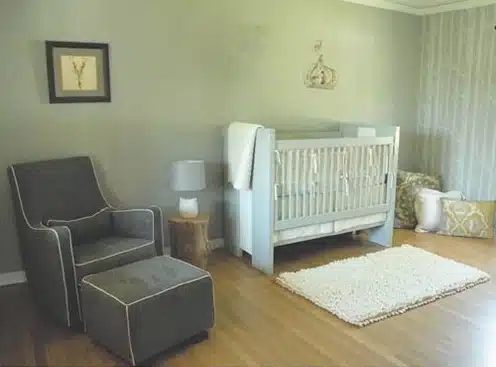 "I longed to make my second son Miller's nursery a place of tranquility," says Jones of her design process. "I love color, but this was going to be my one exception."
She found inspiration from a few key pieces: Petunia Pickle Bottom's Misty Shanghai Boxy Backpack, wallpaper from Cole and Sons called Trees, and two pillows from Anthropologie. The three pieces incorporated a shade of grey that she was hoping to use in the nursery and were the perfect elements to create a focus for the mood board.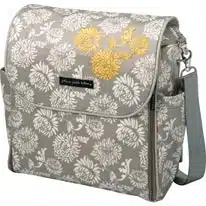 The new mom loves a nice monochromatic palette with a splash of color, much like the Misty Shanghai Petunia pattern.
Furniture and Function:
The crib and changing table were the most daunting decisions the designer.
I love all the new modern and oh-so functional nursery furniture that can be found.
Because she owns an older home, it was important to find something that would strike the perfect balance of old and new.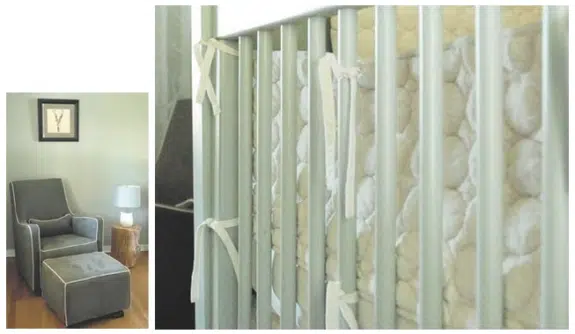 The Panel Crib by Newport Cottages served up just what I was looking for. As an added bonus-the wonderful people at Newport Cottages indulged me with a custom paint color to match the room's palette. Both pieces contain clean, modern lines, and the changing table converts to a dresser once you are done with diapers-an ideal attribute so that the piece can grow as Miller does. Hands down my favorite piece is the Luca Glider Chair by Monte Designs. If I didn't have a busy little toddler running rampant I would sit and cuddle my newborn son in it all day-it's incredibly comfortable not to mention so stunning.
Many of the unique features in the nursery were organic and handmade. When placed in the space together they create the whimsical, tranquil feel the designer was looking to achieve.  DeNai's final thoughts:
Ultimately, the nursery is the most calming place in our home…so I believe I achieved what I set out to accomplish. Now with a two year old toddler and a newborn reeking havoc in our home, it's the place I like to kick up my heels and find tranquility.
---