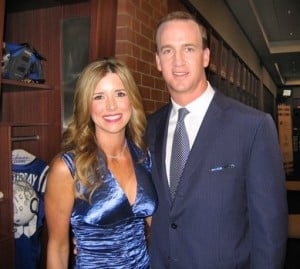 Congratulations to Indianapolis Colts Quarterback Peyton Manning and his wife Ashley on the safe arrival of their twins!

During a surprise announcement yesterday morning it was revealed that the couple had welcomed a son named Marshall Williams Manning and daughter Mosley Thompson Manning on March 31, 2011 in Indianapolis, Indiana. The pair had kept the pregnancy under wraps, as Ashley is regarded as being extremely private.
Former UT coach Phillip Fulmer, who coached Peyton, confirmed the news on Friday saying,
"(Peyton) actually called and told a good friend of ours, and (the friend) was told to tell his other (Knoxville) friends.  He'll be a great dad, and Ashley will be a great mom.

"They are a tremendous family, period. Archie and Olivia (Manning, who are Peyton's parents) set the tone. They are all just fantastic people. There is no doubt (Peyton and Ashley) will be great parents."
Fulmer was surprised that the Mannings were able to keep the pregnancy a secret for so long.
"(Peyton) wasn't the one (pregnant). I don't know how Ashley was able to (keep it secret)," he said with a laugh.
As for any parenting advice?  The former coach would only say,
"Peyton doesn't need any advice from me. Just enjoy your children every day, and I know that he will."
The new babies will be welcomed into the family by Peyton's new niece Ava.  Younger brother and New York Giants quarterback Eli Manning and his wife, Abby, welcomed the baby girl on March 2nd!
Related Articles:
---
[ad]