Singer Pink(Alecia Moore) was photographed spending some down time with her husband Carey Hart and their daughter Willow in Ft. Lauderdale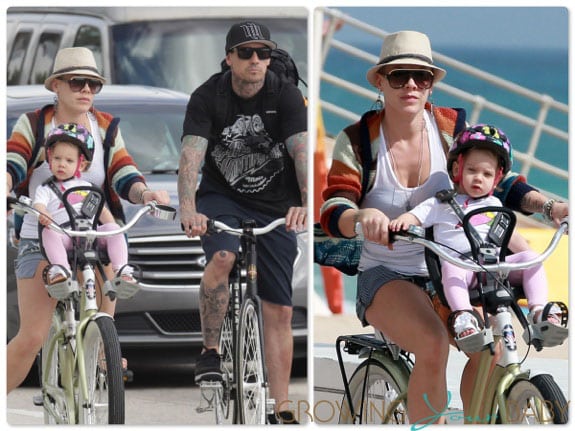 The cute family, who loves to bike together, looked relaxed as they toured the coastal city.
The Harts are in Florida while Pink performs a couple dates for her 'The Truth About Love' tour. Hopefully the are enjoying the sun to its fullest because they are heading to the snowbelt next week.
The singer will perform at various venues around North America for the next month before she heads overseas for the 3 weeks.
Looking forward to performing for her fans Pink always has such inspirational words to share. Yesterday she tweeted,
Thanks to all the beautiful people that have come/will come to our show. So stoked on what we're all able to share. Wildest dreams y'all. Also-all the comments on my "body" good +bad,this body is capable of so much. Im grateful for my strong body that carries me thru the world. I lead by example when my little girl looks at me, and I show her that a woman can accomplish anything, and not based on her looks alone.
---
{FAME/FLYNET, PACIFIC COAST NEWS}
---
[ad]