A five-year-old boy is being hailed as a hero for saving his grandma when a fire broke out in their Phelan, California home at 1 am on Saturday.
Nathaniel Stocks was prepared since he was fresh off a visit to the San Bernadino County Fire Department that his kindergarten class had taken just three days earlier. Nathaniel told TODAY.com that the firemen had told the class how to react in case of fire. "They taught us how to stop, drop, and roll and I learned that you have to crawl on the ground beneath the fire," he said.
Nathaniel and his parents live full-time with his grandma, but the boy's father was out of town on a business trip and his mother was on her way to Mammoth Mountain with her siblings when the fire started. Little Nathaniel and his grandmother, 50-year-old Kimberly Racliss were alone and asleep when the boy smelled smoke. He grabbed his cat, Aurora Mitten and his prized Leap Frog tablet, and immediately went to wake up his grandma.
It took a few tries, with Nathaniel yelling "Nanny, there's a fire" to finally wake her before the two ran out of the house together. Once outside, Racliss realized that her Chihuahua Tinkerbell Marie was still in the house. She was about to go in to rescue the dog, but the little boy stopped her. "I told grandma you can't go in a burning house. You have to wait for the firefighters to get here," Nathaniel said.
Luckily, it only took about seven minutes for firefighters to arrive, and they saved the dog: Tinkerbell was hiding behind the bathroom door, scared and shaking. The firefighters also found the source of the fire, a space heater in Nathaniel's room.
Those firefighters on-scene remembered Nathaniel from the class visit and were so impressed with his calm in a crisis that they invited him to the fire department on Monday, and presented him with a plaque, a hat and badge, and a teddy bear.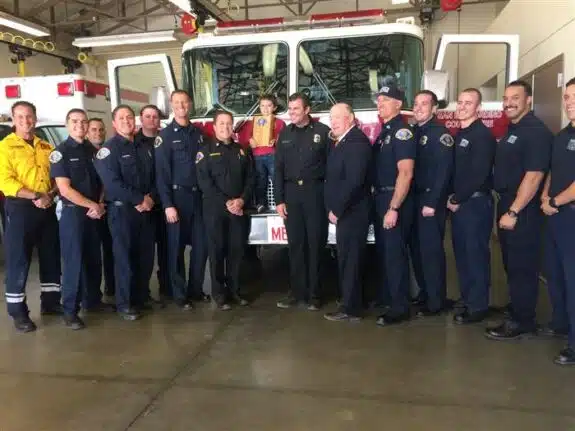 The family lost most of their belongings in the fire and are currently living in a recreational vehicle on the property until the house is livable again. The community has stepped up to bring them food, clothing, and even toys.
Little Nathaniel has proudly been wearing his fireman's hat and badge every day, and the boy says he wants to be a firefighter when he grows up. He already has a good head start on his future career.