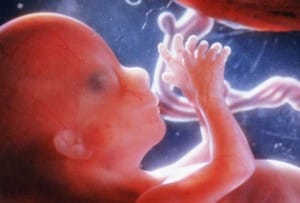 While in the womb, baby James was given a one percent chance of survival owing to his mother's rare condition. But by becoming the youngest patient to receive blood transfusion inside the womb, the baby made medical history and is today a thriving seven week old bundle of joy.
Nicola Sibley is only one of eight women in the UK who have a rhesus negative blood. The complications arise during pregnancy for these women because their body treats the baby as an invader. Five in 1000 of these women therefore have a risk of severe antibody reaction during pregnancy. Their blood cells coat the baby thinking the fetus to be a foreign body and attack it. Annually 100 pregnancies are affected this way and 15 unborn babies die.
When Nicola gave birth to her first child Daniel eight years ago, because of the complications doctors had warned that her chances of a second pregnancy were rare. But after 15 years of marriage, she became pregnant for the second time.
Doctors were concerned that if treatment was not given at the right time, the baby inside the womb would be starved of oxygen and die. It is at this time that the pioneering treatment by Prof. James helped save the unborn baby's life.
For the past few years doctors have been carrying out blood transfusion in the womb after 20 weeks of pregnancy. But because the rhesus haemolytic disease strikes before the 20th week, Prof. James based at Queen's Medical Centre in Nottingham came up with a treatment that helped baby James right when he was 13 week old fetus inside his mother's womb.
At 13 weeks the fetus was given a vaccine of antibodies called immunoglobulin  through a tiny vein in his liver. The vaccine is known to boost the immunity of Aids and cancer patients, and is given to babies with lung difficulties after birth.
The vaccine blocked the anti-body receptor on the baby's blood cells. This in turn prevented the mother's anti-body from sticking to them and covering them. The injection was given every three weeks from the 13th weeks of pregnancy.
At 16 weeks Prof. James carried out another novel procedure by performing blood transfusion on the youngest person ever known. He used a vein in the baby's abdomen for the process.
Safe in his mother's womb, baby James was born at 34 weeks by caesarean operation in City Hospital, Nottingham, weighing 5.5lb.
In honor of the Professor the Sibleys named their baby after him.
Nicola said, 'We are just so grateful to the professor. In fact, we named our baby James David after him.'
Baby James is a healthy seven week old today.
---
[ad]