When it comes to planning for your baby, one of the most important purchases you will make is their crib.  The one item that they will use the most, the crib should be both functional and safe.
Volatile organic compounds (VOCs) are emitted as gases from certain solids or liquids. VOCs can be found in paints and lacquers, paint strippers, cleaning supplies, pesticides, building materials, and furnishings such as dressers, cribs, and mattresses.   Some of the health effects from long-term exposure to VOCs include eye, nose, and throat irritation; headaches, loss of coordination, nausea; damage to the liver, kidney, and central nervous system. For this reason, it is important for parents to choose products for their family that have low or no VOCs.  Buying furniture made from sustainable woods ensures that there will be forests for our children, and grandchildren.
In the past, 'eco-friendly' meant 'double the price', but now more companies are finding ways to implement earth-friendly measures into their production. Often we find that smaller companies, with more grass-roots manufacturing processes, charge more for their products, but in recent years even their prices are starting to come down as their sales start to soar.
We have put together a list of some of our favorite eco-friendly cribs on both ends of the spectrum.  Design and innovation will all cost more, but there are some great options for parents who are just looking for safety and peace of mind at a good price.
Lolly 3-in-1 Convertible Crib with Toddler Bed Conversion Kit($399) – The Lolly collection is created from 100% Sustainable New Zealand pine wood and CARB II compliant MDF. The crib features 4 Level mattress support and can be converted to a daybed and toddler bed with included toddler bed conversion kit. It is finished in non-toxic multi-step staining and painting process, lead and phthalate safe. The Lolly meets ASTM international and U.S. CPSC safety standards and is JPMA certified.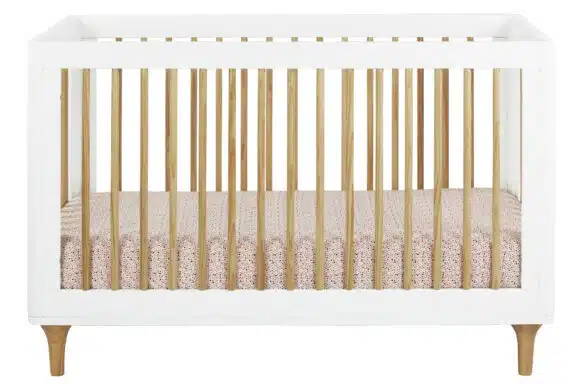 Kalon Studios Io Crib ($1595)- This beautiful crib is created with FSC Certified Bamboo using natural, non-toxic wood oil. Open on all four sides the crib provides 100% visibility from inside and out. When it's time, the crib easily transitions into a modern, low-lying toddler bed, extending the life of this piece to 6+ years, with no conversion kit.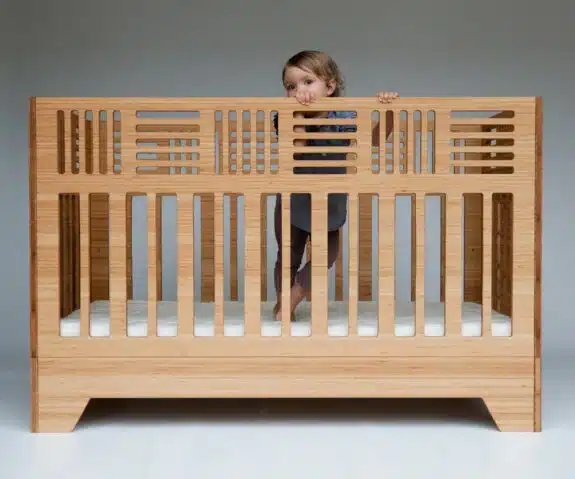 Spot on Square Oliv Crib($575) – This modern crib brings a clean aesthetic with a touch of warmth through the contrast of birch on white. Made from sustainably harvested solid birch, birch plywood, and green-grade MDF. Three adjustable positions for the mattress platform allow you to adjust the height to grow with your baby.
Tulip's piccolo "4-in-1" convertible crib($999) – Can be used as a crib, toddler bed, daybed, and Double Bed with the conversion kit. This collection's use of green components: formaldehyde-free glue & engineered wood, formaldehyde-free and lead-free paint and varnish, and solid bamboo, and bamboo veneer assure that it is not only "eco-friendly", but also user safe.  Made in Canada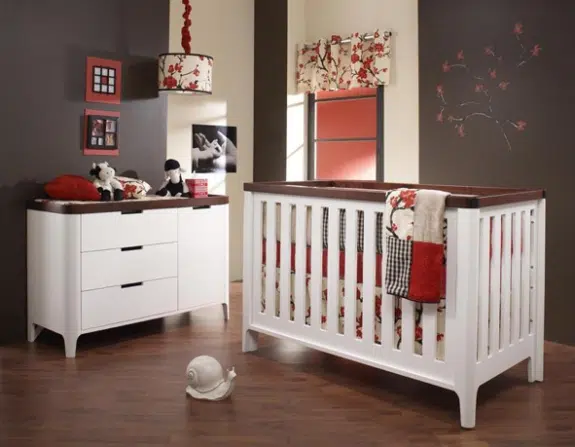 Numi Numi Wired Crib ($1799)- The collection is made of highly durable NAUF (No Added Urea Formaldehyde) bamboo. The finishes are non-toxic, water-based clear finish.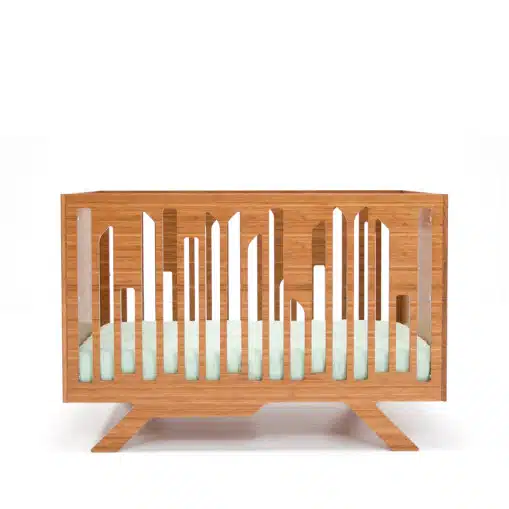 Oeuf Elephant Crib($675) – Sustainably produced in Europe in an FSC certified facility, Made of eco-MDF, Finishes are nontoxic, water-based and free of VOC health hazards. Three height adjustments. Assembly in just 10 minutes.


Nursery Works Highlight Crib – Coming in at $3,900 the Highlight Crib is the priciest crib on the list. With a non-toxic, zero VOC, natural oil, and wax-based finish, you never need to worry about toxic breathing and teething.  With the ease of a flip, the Highlight crib seamlessly transforms into an adult-sized desk. The end panels wrap around to form the desk top, creating a durable work surface for years to come. The mattress support in Fluoro Yellow converts to a vibrant-colored desk shelf.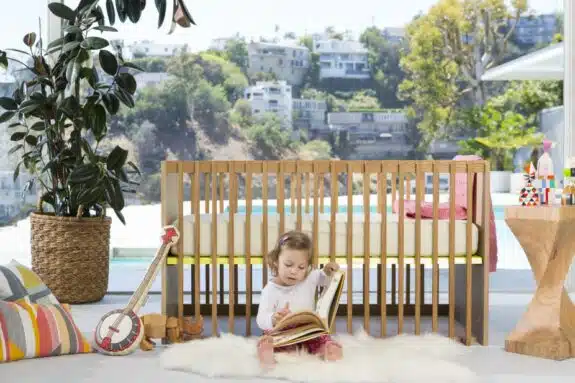 DucDuc Austin Crib($1695) is finished in hand-rubbed, multilayered, water-based, low-VOC finishes.  The wood used is sustainably harvested hardwoods (no MDF or particle board) and the crib can be adjusted to four mattress height settings for maximum versatility. Compatible with toddler rail.