Maclaren is known the world over for their exceptional strollers. What you might not know is that Maclaren offers many other products, such as their charming toy collection. I have had the opportunity to see a selection of toys from the Maclaren Play Collection and I can say that these toys are just as fabulous as the Maclaren strollers.
The Organic and Plush toys are really nice options for your little ones.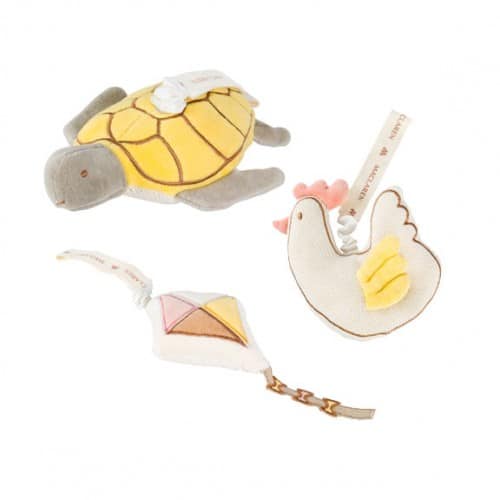 My 11 month old daughter loves the 3 Organic pull toys in the Organic Toy gift set and they are wonderful alternatives for the stroller, car seat, baby chair or playpen. Easily attached to where ever your baby is with a velcro closure ribbon, they are just as easy to grab & pull and offer a vibration that amuses and soothes a fussy baby. My daughter is teething quite badly, so she tests out everything in her mouth first and each of these passed the mouth test with flying colors. She loves the squeaking chicken (Chelsea), but Arielle the Kite and Sheldon the Turtle are popular too. I like that I don't have to worry about these toys. They are organic cotton, lovely, soft, perfect for little hands and even okay for little mouths.
Ella the Elephant is a huge hit with all 4 of my children, even the 5-year-old liked her.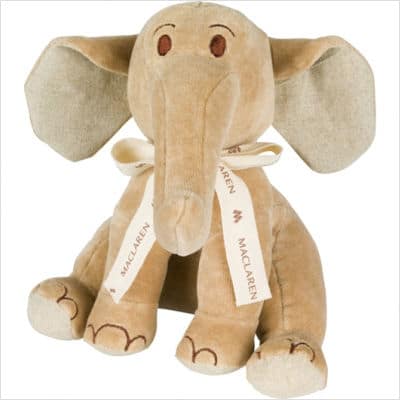 She's so soft with crunchy ears, any baby will love her. Great for gifting, all of these toys come in nice boxes, complete with Maclaren trading cards expressing the toy's unique personalities. The non-organic plush toys are offered in a wider array of colors and personalities and are accompanied by trading cards as well, so everyone knows exactly whom they are playing with and what their own specific favorites are, as you should with any new best friend. It's all very cute and is perfect for amusing your baby.
Active toys offer child-sized versions of Maclaren strollers, such as the Quest, Twin Triumph and MX3.
We have the Junior Quest Activity Centre. This is a wonderful gift set for your little ones to use for practice at being Mommies and Daddies. I have 3 boys aged 2, 3 and 5 and they love to take care of their babies. They are very good Daddies and this set in the By Land, By Air, By Sea pattern is perfect. It includes a Quest buggy, Night time travel cot with carrying case and a Day time rocker and matching travel bag, so babies are well provided for and the print works well for girls or boys. They really love being able to do what they see me doing and having their own perfectly toy versions that are well made and sturdy enough for them to play with is great.
Maclaren toys are beautifully made and offer fun for your children right down to the smallest detail. You will love them as well. These also make great gifts. If you're looking for a shower or new baby gift, the Organic Toys are perfect and ready to wrap. – Kiersten, Staff Writer
---
Related Articles:
---