Playmobil's play sets have been popular with kids and parents for years because of their incredibly realistic depictions of real life occupations. That tradition continues this year with the addition of a ranch, space station and harbor patrol set. Kids will also love Playmobil's gorgeous new pirate ship, elaborate princess castle and cave man set!
Coming in August the Pirate ship comes with working cannons, a crane that can be used for loading and unloading, and a hidden compartment to store treasure. The Pirates Ship can float on water and can be upgraded with the Playmobil Underwater Motor. On the ship is a magic coin that can be used on the Pirate Adventure Island (#5134). Set includes four figures and many other accessories. Dimensions: 26.7 x 8.8 x 22 inches (L x W x H). Recommended for ages four to ten. Suggested Retail Price: $79.99
Additional sets will include Pirates Commander with Armory, Pirates Rowboat with Shark, Cast Away on Palm Island and Soldiers Fort with Dungeon!
To be young again! With turrets, gilded entrance gate, grand staircase, and lots of rooms, this beautiful Princess castle is the perfect home for her royal highness. Store all the royal jewels in the tower's secret hiding place before taking a spin around the ballroom using the revolving dance floor. Set also includes two figures, throne, chairs, chaise, chandelier, jewelry box, tea set, goblets, flower bushes, and a life-size tiara, bracelet, and ring. Dimensions: 29.5x28x26 inches (L x W x H). Recommended for ages four to ten. To be available in August ($179.99)
Additional sets include Princess with Pegasus Carriage, Pegasus with Princess and Vanity, Royal Banquet Room, Royal Bed Chamber with Cradle and Royal Bath Chamber.
Someone has to guard the harbour! Kids can patrol the waterways with the floating speedboat or chase down lawbreakers and lock them in the police station's prison cell. Be on your guard though for prisoners trying to escape through the cell's breakout window. Set also includes five figures, seagull, fish, fishing rod, desk, bench, chair, handcuffs, telephone, and other accessories. To be available in April.
Available in August, Kids can enter the realm of this futuristic world with the E-Rangers' Headquarters. Equipped with a swiveling LED spotlight to help illuminate the surrounding terrain, knockout cannon to disable enemy vehicles, and a functional solar fan module, this galactic headquarters is filled with top-notch technology. Kids can oversee operations in the command center using the computer with changing displays and protect all the red Energy Crystals – a vital resource that helps the E-Rangers survive on this new planet. A rotating gate and elevator allow E-Rangers to enter and exit the facility, and a balance racer makes it easy to patrol the surrounding area. Set also includes four E-Ranger figures, one robot figure, and other accessories. Balance racer can be converted into a propeller or jet car racer. Recommended for ages seven to twelve. Suggested Retail Price: $129.99
They roamed the earth 3000 years ago and now they can be part of playtime! This Stone Age cave dwelling comes filled with cave paintings, raised lookouts, and a rotating waterfall. Watch out for the giant Woolly Mammoth and protect the clan using flaming torches and tribal spears. Set also includes four figures, foldable trees, a wolf, and other accessories. Dimensions: 15.7x10x11 inches (L x W x H). Recommended for ages four to ten. Suggested Retail Price: $69.99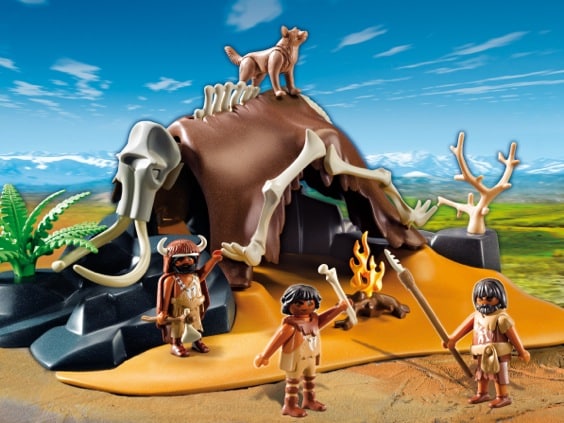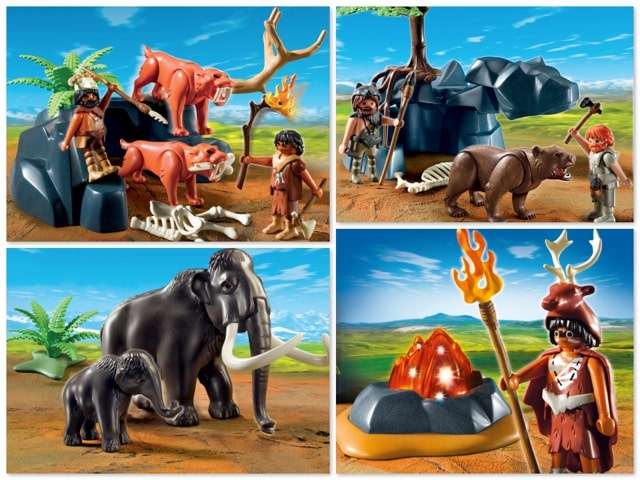 The toddler collection 1.2.3 will have some new imaginative play toys as well including My First Castle, a space ship, a garbage truck and a bus.
---
Related Articles:
---
[ad]