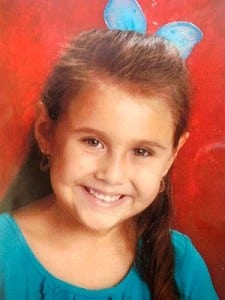 Six-year-old Isabel Mercedes Celis has a smile that shines through her missing person's photograph. That smile has captured a nation by storm, leaving it concerned and heartbroken. Police still have no leads in the case, but reports from yesterday indicated that there may still be evidence in and around her Tucson home. Investigators have now requested that her parents leave the premises so that they can determine what evidence that might be.
The decision to turn back towards her home came after Tucson police flew in "specialized K-9's." These K-9's are trained to handle urban settings, much like the area surrounding Isabel's home – a "middle class" neighborhood that is mixed with open desert and an abundance of buildings and structures that could serve as hiding places for evidence.
Before the K-9 alert, search parties conducted an extensive search within the 3 mile radius of the family home. Officers have gone door to door, trying to collect any potential leads concerning Isabella's whereabouts. All sex offenders in the area have been interviewed, per investigation protocol. Officers have also spent countless hours scouring the local landfills, searching for any clues that may have been discarded and carried away to the landfill since her disappearance.
"We are checking every corner, every nook and cranny that could possibly hold a child," said Tucson police Sgt. Maria Hawke.
She was last seen by her parents at 11 p.m. on Friday night when she headed off to bed. At 8 a.m. the next morning, about an hour and a half after her mother, Rebecca Celis, went to work, Isabella's father, Sergio Celis, went in to wake her up. But little Isabella was nowhere to be found. That morning, he filed the missing person's report.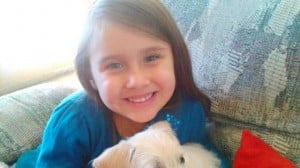 As police searched Isabella's home after her disappearance, they found that a screen was removed from one of the windows. Sources indicated that the screen belonged to Isabella's bedroom window. At this time, investigators are only declaring the missing window "suspicious" evidence, saying that it may indicate that someone had broken into the home or tried to get out. They stressed, however, that "there's nothing conclusive at this point."
Investigators have not disclosed what the K-9's found that had led them back to the home. Nor have they indicated the relevance of the hit. They did say, however, that they have asked the family to vacate the home and they have agreed to do so voluntarily. Because of their cooperation, no search warrant has been obtained. Up to this point, officers say that the family has tried to accommodate the search as best as possible.
Most people describe the family as "wonderful, caring people." Based on what has been released to the public, there seems to be no evidence pointing to Isabella's family. Those that know the family personally say that it's impossible to for them to believe that they could have anything to do with Isabella's disappearance.
"They are always helping. You always see them together," said Cynthia Mort, a neighbor that has seen investigators comb all of the houses in the area "at least three times." Mort says that she can't imagine anyone wanting to hurt the little girl or her family. "They are very, very loving," she said.
Karen Herbert, a nurse at Tucson Medical Center works with Isabella's mother. Planning to help with the search, Herbert says she can't imagine the pain that Isabella's parents must be going through.
"She talks very highly about her kids, how smart they are, how playful they are," Herbert said about Isabella's mom. "She just lights up and smiles when she's talking about them. With all the hurt I'm feeling, I can't imagine what they're going through."
Yet, despite the positive feedback on Isabella's family and the cooperativeness of the family, investigators are still calling Isabella's disappearance a "suspicious disappearance/possible abduction."
"We're not ruling anything out of the investigation at this point because we really need to keep our mind open about all the information that's been brought to us," said Tucson police chief Roberto Villasenor.
Our hearts go out to the family and the community during this time and we join them in the hope of a safe return for little Isabel.
Related Articles:
---
[ad]