Vicente Sotto Memorial Medical Center (VSMMC) is offering a cash reward to anyone who can provide information leading to the identity and arrest of the woman who stole a two-day-old infant from the government-run facility in Cebu City on Monday.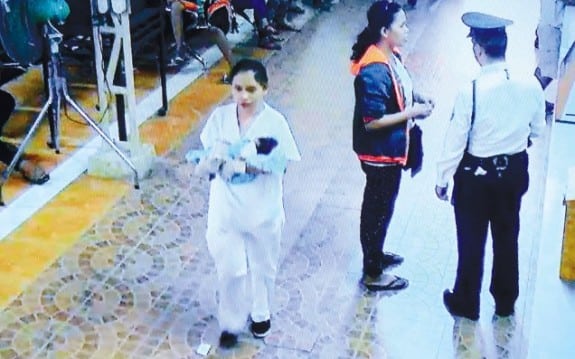 Hospital footage showed a woman wearing a medical personnel uniform leaving the building with a newborn baby that wasn't hers.
The baby, Prince Niño Celadenia, was born on Jan. 2. He was rooming with his mother Jayvee Rosalina, 27, at the Child Survival Center, VSMMC ward when a woman dressed in white scrubs told the new parents that she had to take their baby to the laboratory to be vaccinated against dengue fever.
Jayvee and her husband Jonathan were in the process of being discharged, but allowed the woman to take the baby because they thought she was part of the staff, and had seen her working with the patient in the next bed.
A check at the laboratory a short time later revealed that no blood request had been made for their son, which caused the couple to alert security.
Footage taken by hospital's security cameras showed the woman, wearing a mask, carrying the baby to the laboratory section.
A second camera showed the same woman, without her mask, bringing the baby past the billing section of the hospital before a third camera caught her heading towards an employee exit near the trauma section.
She even passed by a security guard who was talking with another person as she passed a cashier.
Police are now hoping that they can get some credible tips from the public to return this baby to his parents.
---
[ad}