As cute as a button, Pom Pom the Baby Panda will undoubtedly be a popular pick for kids this holiday season.  Part of Hasbro's FurReal collection, Pom Pom is a cuddly friend that moves and sounds like a baby animal.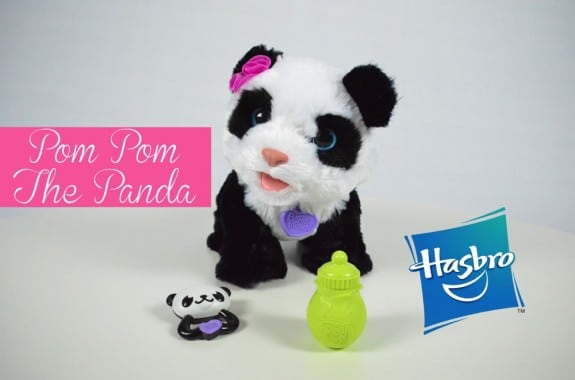 There are a few ways to get Pom Pom to come alive. When kids press her back, shake her rattle or feed her with her bottle she will coo and walk towards you.
She also giggles, babbles and makes funny sounds(45 in total) when she walks, and sounds like she's drinking while having her bottle.  My youngest loves when she says yum yum afters she's done drinking.
When it's cuddle time her legs can be folded in so that she can get closer to you.
FurReal friends' pets have always been popular in our house.  Pom Pom the baby Panda is definitely a new favorite with my son.  He loves feeding her, sleeping with her and getting her to follow him around the house.  And despite the fact that her paws are fluffy she does a great job of making her way across our ceramic floors!
We put together a quick video review showing Pom Pom off in action.  Please check it out below!
Pom Pom the baby Panda comes with batteries out of the package, but Hasbro recommends putting fresh ones in her to ensure her best 'performance'.
---
[ad]