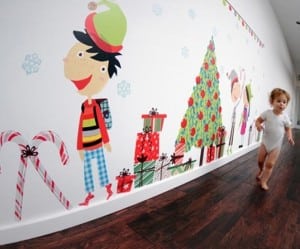 As Christmas decorations go up all over the house, why not add these funky decals from pop & lolli to add some sparkle to your little one's space as well?
Designed by a mom who couldn't find the perfect nursery decoration for her daughter, pop & lolli wall decals, are truly a wonderful wall decoration to grow with your child! Fun and funky, these decals are grand enough to create a playful, immersive experience for tiny tots!
These Christmas decals are designed to work with any of the character sets also from pop & lolli, but are also delightful on their own. Included in the set are glittery gifts, candy canes, hats, a Christmas tree, tree ornaments, bows, lights and snow flakes…72 awesome fabric stickers in total!
Perfect for hallways, stairways, children's rooms, family rooms and play rooms, these fabulous glitzy fabric wall decals by pop & lolli are sure to add a bit of spice to your children's Christmas decorations. Best of all, this are decorations little hands can really help with! – Belinda, Staff Writer
---
---