The George Washington Bridge is typically a busy area, with plenty of cars, buses, trucks and pedestrians traveling to and from home and commuting to work. In addition to the sounds of all that bustling activity, a newborn's crying cut through the honking horns and sounds of traffic, as this past Saturday proved to be an incredible day for the Port Authority authorities working the bridge that day when they delivered a baby girl in the back of a taxi, and saved the life of another all in the span of one day.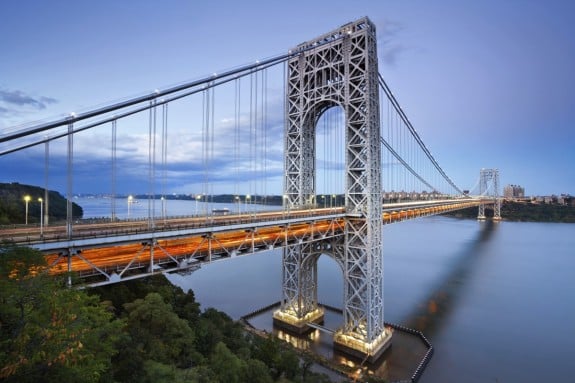 The unidentified woman and her husband, both from the quiet town of Monroe, had been traveling into Manhattan when the woman was suddenly overcome with severe labor pains. The cab driver was able to make it to the toll booths on the upper level of the bridge at around 6:30 in the morning, where he was able to summon help and authorities were notified and officers Steve Pisciotta, Joseph Ponzo and Jason Malice arrived on the scene shortly thereafter.
Another Port Authority officer, Laverne Watson, was also on-hand and aided the officers, delivering the baby girl before an ambulance arrived on scene. Pisciotta, who is a trained Emergency Medical Technician, cut the umbilical cord. After emergency crews arrived on scene, the mother and daughter duo were then transported to NYU Langone Medical Center where they were listed in stable condition.
A short time later, back on the GWB, officer Aida Acevedo, who was only on her third day of uniformed patrol, came across a suicidal 24 year-old man who was climbing over the outer railing of the bridge. Acevedo was able to talk the man down off the railing, until he suddenly made a move and put his leg back over in an attempt to make the jump.
Acevedo had managed to grab hold of the man's arm and pull him down, restraining him until more officers arrived on the scene. The man was then taken to Englewood Hospital, where he received a psychiatric evaluation, according to officials.
Saturday was truly a lifesaving day at the city's famous bridge!
---
[ad]