They say some things come in 3s, which may also be true with mega multiples.  Over the Memorial Day weekend two couples in the U.S. welcomed quintuplets.  And while that is rare, it was reported yesterday that a third mom, who lives in the Czech Republic, is also set to welcome 5 babies!
Twenty-three year-old Alexandra Kinova, is scheduled to give birth in her 31st week by Caesarean section on Sunday to the Czech Republic's first ever set of quints.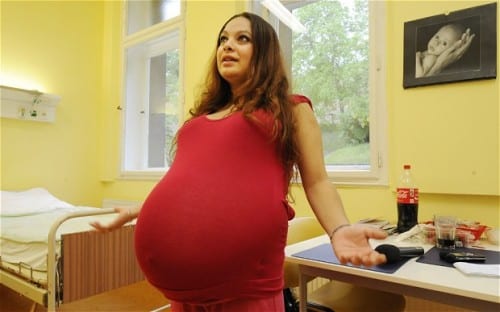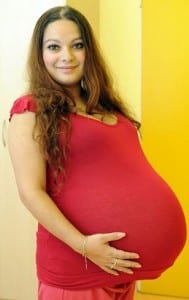 Already mom to one, Alexandra is said to have conceived the babies naturally.
The news that she was expecting five, however,  was slow to come. During her first appointment doctors only saw two babies. The number increased to four in March and then the fifth baby was revealed in April.
She said: 'When we finally found a fifth head, I started to cry.'
The odds of conceiving quintuplets naturally is thought to be one in several million. But both she and her partner have a family history of twins.
Aside from four months of morning sickness, she told Czech news site denik.cz, she has had few complications during the pregnancy.
"I do not have any problems with breathing or sleeping. I sleep on the side, and when that one of the babies do not like to turn around. Dig mostly by one when one begins and the other he returns, "she says with a smile.
The sex of three of the babies is known, but the bottom two cannot be determined because they are hidden under their brothers and sister. She does however, have names picked out for all of the babies.
The identical boys are Daniel and Michael and the baby girl is Tereza. The bottom two children have reserved names; Elizabeth and Catherine and Alex and Martin.
When they arrive Alexandra hopes to breastfeed her babies. She nursed her first son and plans to do the same for her quintuplets.
"The first child I nursed for almost a year and a half and I want to breastfeed now. While I know that some will be on artificial nutrition."
At home she will have two nannies who will help her look after the babies when they are strong enough to be released.
We wish the team at Prague Institute for the Care of Mother and Child good luck on Sunday. It will be a momentous occasion for every one.
---