Two young Jersey City boys ended up being in exactly the right place at the right time this Saturday. While playing in the parking lot of their apartment complex, they discovered an infant who'd been left in the dumpster for dead. Immediately, the boys contacted the building's super, Arturo Rivas, who then ran to get his wife, Rebecca Womers. Rebecca ended up saving that baby's life.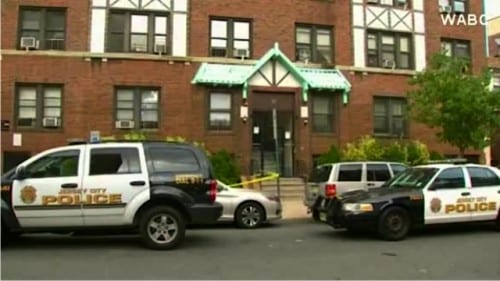 Rebecca doesn't have any medical training; she doesn't even know CPR, but when she found that tiny baby, wrapped inside a garbage bag with tissue paper stuffed into his mouth and nose, "maternal instincts" kicked in.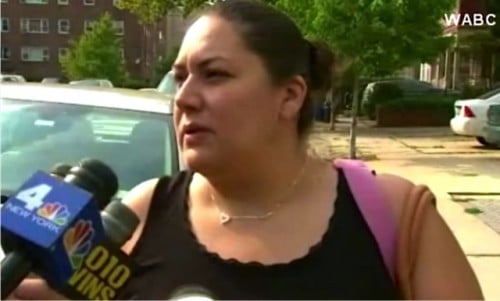 "I'm a mother and I said, 'I have to get that stuff off the baby,'" Rebecca told The Jersey Journal.
After pulling the tissue from his mouth and nose, she started blowing oxygen into the tiny baby's mouth.
"At that point, the baby's left hand popped out," she said. "I put my hand out and the baby squeezed my finger."
With the baby breathing, Rebecca busied herself with cleaning him. She then cared for him as they waited for the ambulance to arrive.
The little boy was transported by EMS to the Jersey City Medical Center. He was checked in at a mere 2.86 pounds. Doctors believe he was born somewhere between 11 and 12 weeks premature, which is rather early. Thankfully, it appears that those young boys happened to find the baby very soon after he was left in the dumpster.
"The baby did not lose that much blood," Mark Rabson, spokesman for JCMC. "We don't think the baby was out there that long."
The tiny preemie is now in the Marie Guarini Mangin Neo-Natal Intenstive Care Unit resting inside a giraffe, a full-featured incubator and infant warmer in one.
According to Rebecca's husband, Arturo, he and his family had gone to visit the baby that he described as extremely tiny and light-skinned with a full mop of black hair. However, when they tried to see him yesterday afternoon, they were denied access because of the ongoing investigation regarding his abandonment.
"They say the baby is stable," Arturo told The Jersey Journal. "He looks like he is going to make it. I thank God for that. We were disappointed [though]. I just wanted to lay my eyes on it and see that it was doing good."
Hudson County Assistant Prosecutor Gene Rubino declined to speak about the case until his office receives more information about the abandonment. However, he did stress the point that this baby, while lucky, suffered unnecessarily.
The state of New Jersey has a "Safe Haven" law, which allows anyone to drop off a baby within 30 days of its birth to a hospital, police station or staffed firehouse. No questions asked, no fear of prosecution.
"We were lucky this time," Rabson said. "The purpose of this law is so people don't abandon infants…Maybe we can make something good out of a bad situation by publicizing this law."
---