November is Prematurity Awareness Month. In honor of this, some parents who have had babies prematurely have offered to tell their stories to create awareness about his important cause.
Our sixteenth profile is that of gorgeous twins Addison and Riley.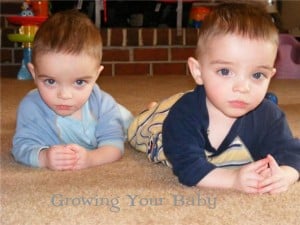 Addison and Riley were born on June 17th 2008 at 25 weeks 4 days. Mom Lindsey does not know why they were born early.
At birth, Addison weighed 1lb 5oz and Riley weighed 1lb 3oz. They were both immediately put on ventilators and to prevent their skin from breaking down, they were also placed in a warming bed that was covered with plastic wrap and had a humidifier. They were moved to an isolette about a week after birth and they remained in those until a few days before coming home.
Both Addison and Riley remained on a ventilator for 5 weeks and then were gradually moved down to a CPAP (Continuous Positive Airway Pressure), then to a high flow nasal cannula (high flow means there was added moisture to prevent drying out the nostrils), and then to a regular nasal cannula.
Each had multiple brain scans to check for brain bleeds, ultrasounds to check the intestines and heart, x-rays to check for lung issues, digestive problems, location of breathing tube, blood work as often as 3 times a day, IV lines placed every 2-4 days, and numerous blood transfusions.
Riley had issues with a partially collapsed lung and developed an infection that required weeks of antibiotics.
Addison and Riley both had eye exams to track the effects of long term oxygen exposure and even received physical therapy during the last few weeks of their stay. Mom said they had a scary but pretty smooth ride in the NICU.
Addison was in the NICU for 81 days before coming home and Riley followed after 87 days.
As for any lasting effects, they are very small for their age and developmentally delayed. They receive physical, occupational, and speech therapy once a week to help them catch up.
Addison and Riley have an older brother Skylar who is eight years old that was born 8 weeks early. They also have a big sister Leah, who is five that was born at full term.
If Lindsey had one piece of advice for a new preemie mom, it would be this: Don't use google! Try to find a group specifically for preemies so that you will have someone to talk to who will what to say and, more importantly, what not to say.
I asked Lindsey to describe her kids in one word and she said "AMAZING AND INSPIRING."
If you would like to read more about these two amazing and inspiring kids, you can go here to Addison & Riley's Journey
---