November is Prematurity Awareness Month. In honor of this, some parents who have had babies prematurely have offered to tell their stories to create awareness about his important cause.
Our twelfth profile is of a little guy named Tyler Kenneth Brown.
Tyler was born on September 21st 2005 at 25 weeks and 3 days. Mom Nancy does not know why Tyler was born early. She said that neither Tyler or herself had any infections after delivery, but she did have a perinatlogist say it was an incompetent cervix.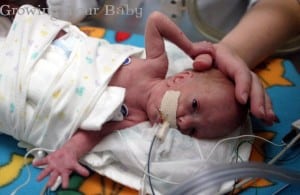 At birth, Tyler weighed in at 1 pound 11 ounces. His NICU story was some what uneventful. Most of the events are the after math of preemiehood. Tyler was born in a hospital that was not equipped for a preemie with issues let alone a preemie as early as Tyler. They were life flighted as soon as he was born. Dad Dallas saw his little body off on a helicopter and followed in the car.
Tyler had a PDA (Patent ductus arteriosus) done at three days. The doctors had wanted to get it closed because his brain was bleeding. Mom says they didn't have the luxury of waiting to see if it would happen on his own. His surgery went well. He did have a grade four bleed on one side and a three on the other. After about 30 days and an up and down of his head growing too much they transferred us to yet another hospital to have brain surgery. He had a reservoir placed after a month in the NICU. Mom said they ended up with the greatest care and found a great team of doctors at this very hospital.
Ty had one seizure after his NICU reservoir placement and hasn't had one since. Mom is always on pins and needles with it. Tyler was not shunted after the reservoir placement but he did end up with a shunt later. He was on the vent for about 63 days. He had a hard time getting off. He really was kind of lazy. Tyler came home on oxygen but was weaned pretty fast.
Right before mom and dad were ready to bring Tyler home, he had a bad ROP (retinopathy of prematurity –a disease of the eyes) exam. He needed surgery FAST. Tyler had ROP surgery within 72 hours of finding how severe it was. It saved his eyesight but he does still has poor vision. He was pretty fast bouncing back. Tyler was off the vent quickly and on to growing.
Tyler spent 93 days total in the NICU before coming home on December 23rd. Some of the ups and downs happened fast after the NICU. Mom and dad brought him home a day before his due date. He was just under six pounds. In January he was diagnosed with craniosynostosis (a medical condition in which some or all of the sutures in the skull of an infant or child close too early, causing problems with normal brain and skull growth) and had to have surgery on February 14th. The doctors took out his reservoir at that point.
In April he got really sick and almost died. Doctors found out he was in need of a shunt. His bones had grown back and he didn't have enough space for his brain to expand and he was sick. An emergency shunt was placed in April. Tyler screamed for an entire month and a nice doctor took pity on me and said he needed a shunt revision. Once he had the new shunt placed, he did awesome. One year after his first skull surgery Tyler had to have another one. This one was a total skull reconstruction. He did amazing well. He bounced back quickly and for that mom is very grateful.
In Tyler's second year, he had very little downs. At the end of year two he was diagnosed with stage two cerebral palsy and he was and is walking on his own. Tyler is a good gimpy walker and has so much energy. Tyler is in preschool and is doing very well with that.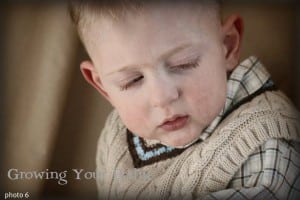 Currently he is being evaluated for Sensory processing disorder and he has his own issues. In September of 2008 Tyler had a shunt malfunction from a recalled shunt. They fixed it right before his 3rd birthday. Six months later, in February of 2009 Tyler had another malfunction and his tubing had broken. Mom is on edge because they are just six months out from the last surgery.
As for other children, mom Nancy and her husband Dallas have tried but were unable to get pregnant. They are really not sure however that they want more children or as she says, more correctly they aren't sure to dare go through what they have with Tyler. They love him but it is very hard.
If Nancy had one piece of advice for a new preemie mom, it would be this: Keep going. You will always doubt your choices but do what you feel is right and keep your chin up. You will never feel you did enough or loved enough or whatever. BUT you are doing what is best. You are the mom.
I asked Nancy to describe Tyler in one word and she said "FUNNY".
If you would like to read more about Tyler, go here to Miracles Happen
Other Amazing Preemies:
---