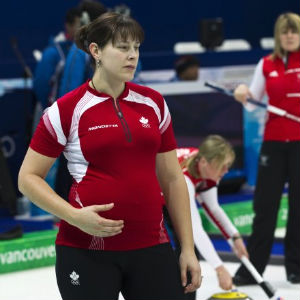 Canadian Curler Kristie Moore is making headlines as the second pregnant Olympic athlete in history. Yet not everyone sees her pregnancy as a huge issue.
Most Olympic sports require a great deal of physical strength and can come with substantial risk. These events are not places where pregnant women are encouraged to participate due to the dangers. Curling, however, is a much more relaxed sport. A cross between shuffle board and lawn bowling, this ice sport relies more on precision than physical strength. It is one Olympic sport where Moore's 5 months of pregnancy will not hinder her performance.
Cheryl Bernard, the leader for the Canadian Curling team, says, "she is young and fit. There's no reason we'll have any problems, and she'll be out there."
Although Moore is the second pregnant athlete to be a part of the Olympics, her part is mainly that of an alternate member. If another teammate is injured or becomes unable to play, Moore will be the one to step up and take that place. Currently most of her teammates are healthy and ready to play, making it unlikely that she will actually be on the ice. In contrast, the first pregnant Olympic athlete was Swedish figure skier Magda Julin, who skated and took the gold metal when she was 3 months pregnant.
Kristie Moore was invited to join Team Canada a few weeks after she discovered she was pregnant. So far the team has been supportive for her and welcomed her joining on. Team Canada is a favorite for the gold metal in Curling this year.
Related Articles: