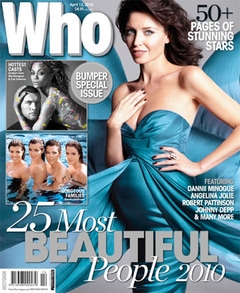 Since becoming pregnant, Australian singer Dannii Minogue has become "more relaxed" about her expanding body, an attitude that's changed since she was a teenage pop star, when she would "literally be throwing up before photo shoots, it was all too much." Now, she says "I'm just like, 'Aahh!' It's an acceptance of your body; it's been really good."
The Australia's Got Talent Judge recently topped WHO Magazine's Most Beautiful People 2010 and covered the special edition of the magazine.
Inside the pages of the issue Dannii, who is six months pregnant, shows off her new curves and growing belly.
She looks fabulous in all three feature photos. She will definitely appreciate this photo shoot after the baby arrives.
---
Related Articles:
---