Holly Madison was photographed walking the red carpet at the 29th Annual Black & White Ball at the Bellagio Hotel and Casino in Las Vegas over the weekend.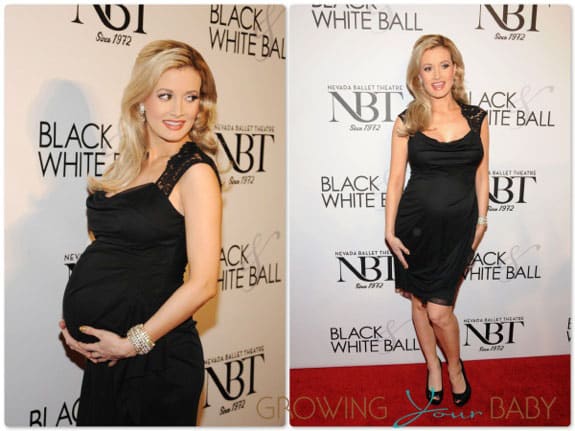 The former Playmate showed off her growing belly in a black Cache dress with lace straps.
Due in March, Holly recently revealed that she plans to get married to boyfriend Pasquale Rotella soon after.
"One thing at a time," She told People.com "We totally want to [get married], probably in late summer. We're going to wait until the baby comes and we get moved in to the house before I start planning any of that."
To make room for their little princess, the couple has bought a new home in the prestigious Rancho Circle luxury home subdivision in the core of Las Vegas. Her mama bear instinct has kicked in, causing her to chose a property with a front lawn that wasn't too close to the sidewalk or street.
"It wasn't even that I thought the area was not safe, but I wouldn't want to live in a house that people might find out is mine and be able to walk into the front yard and see my kid playing, and just lift the kid out. You know what I mean? I want to live in an area that is protected."
---
{PACIFIC COAST NEWS}
---
[ad]