In recognition of National Prematurity Month I thought it would be great to give the perspective from a nurse that works in a Neonatal Intensive Care Unit with these amazing premature babies.
Danielle was my son's primary nurse when he was in the NICU. She is absolutely amazing and we were very blessed to have her as a part of our life. My son spent 227 days in the NICU before coming home (June 10th 2005-January 23rd 2006.)
I still remember the day that dad and I came into the NICU when Ashton was only about two weeks old. Danielle was on and it was a night shift. She asked us if we wanted to give him a sponge bath. We were SO excited. What made it even more special to me was that she had bought him Huggies bath soap and cream. It was this moment that I knew we were so very lucky. To this DAY we still use the same stuff by the way! It was the first time we really got to touch Ashton and the first time that we held him while she changed his bed.
Throughout his entire NICU stay she was always willing to let us do what we wanted (obviously where appropriate) and to help her do whatever it was that she had to do. She was big on having us, the parents, involved in the care of their child.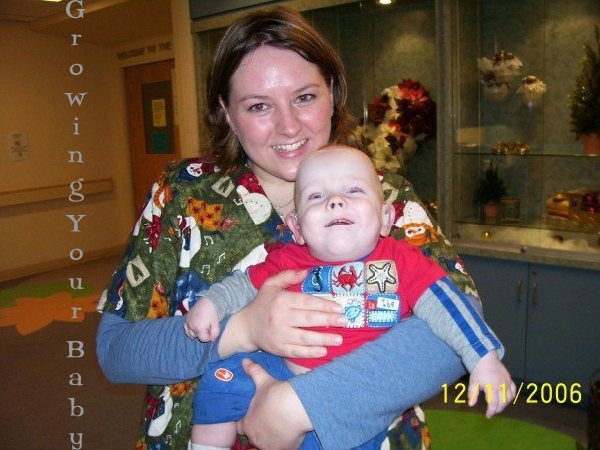 Because we were there for longer than usual we formed a very strong bond with Danielle. It was heartbreaking for us to walk out of the NICU after so long because we felt like we were leaving a big part of our life behind. And in a way we were. Danielle cared for Ashton like he was her own. She is dedicated, loving and fantastic at what she does. Ashton will always carry a part of her love and devotion with him as we let her pick his middle name, Kaden. Which in turn means "fighter".
How long have you been a NICU nurse?
I have been a neo nurse for 7 years.
Do you prefer to be a "primary" nurse or to have different babies (A primary nurse is one that is assigned to whichever child is their "primary" on every shift that they work)?
I prefer to have primaries because you get to know that patient, and the families very well. This way when you know the baby it is easier to detect if the baby is having an off day, you also know how to comfort both the patient and families.
What are your feelings for the families that have to come through the NICU?
I feel bad for all families that have to come to the NICU. It is a difficult time and if we the nurses can make it a little easier then we have done our job.
Do you ever have to deal with a family that you don't want to deal with?
Sometimes there is personality clashes but it is part of the job you have to remember that the family is going through a difficult time and that the baby needs you, so you put your feelings aside and do the best you can.
What is one thing you do to try and make a family more at ease while in the NICU?
I try to get the families involved with as much of their babies care as I can. For example: temperatures, diaper changes, holding their baby while I change the bed, or just a calming hand if the baby does not tolerate too much handling. I also like to do special things like footprints and name cards for their child so they have memories from when they were very small.
Does your job ever come home with you?
Absolutely my job comes home with me. I take everything to heart so if my primary is having a bad day so am I. Worrying and thinking of what else we can do is part of who I am.
Are you the type of person who gets attached easily?
Yes. I have many families especially one particular little man that I love hearing about and keeping up to date on their process. Some people like the nurses union believe that nurses should not get attached that they should do their job and then go home and never have contact again. Unfortunately, these people have probably never worked in a NICU. It is a different atmosphere and no one understands but those who have had a child there or worked there.
Can you see yourself working in the NICU until you retire?
Yes and no. I am now moving towards transporting sick and premature baby's from across Ontario. This is what I have always wanted to do and now that I am on the team I am enjoying this. You get to meet families at the scariest time when there baby needs to be separated from them and you can still keep in touch with families during their stay in the NICU and comfort them when they need it.
If you weren't an NICU nurse, what do you think you would be doing?
Probably an early childhood education teacher. I love working with little kids.
Why do you think you make a good nurse for the NICU?
I believe it is because I care so much and I am willing to speak up on behalf of my patients and fight for what I think is right.
What is the best thing about working in the NICU?
The day when one of my primaries graduate to going home!
What is the worst thing about working in the NICU?
The little ones that don't make it.
And lastly, have you ever had a favorite in the NICU?
hahahaha Absolutely but I can never tell.
Thanks Danielle for all you do to make the stay in the NICU much easier on parents. Any baby that has you as a nurse is in great hands and is very lucky!
---