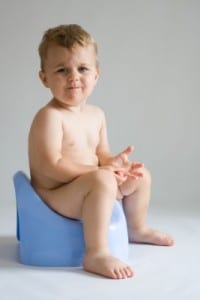 According to some experts, parents are feeling pressured to potty train earlier and earlier. Is this growing trend good for toddlers, or just the latest parenting fad?
Betsy Rosenblatt Rosso was shocked when her daughter was suspended for one month. Even more shocking was the reason why: her three-year-old daughter had one too many potty accidents at daycare. Rosso is just one example of the recent pressure on parents to potty train their children at younger and younger ages.
The age of potty training has gone up in recent years. In 1962, 90 percent of toddlers were potty trained by age two. This usually came through means that many parents today would shudder at, such as potty chairs with straps to force a child to stay sitting until she did her business. Now, it is estimated that only 20 percent of toddlers are potty trained at the same age. As parents have become less harsh, toddlers have been given a free ride to take their time learning to use the potty.
But that free ride may be over.
According to Leslie Venokur, co-founder of Big City Moms, one of the biggest mom support groups in the nation, the potty training war is heating up, with many moms feeling the need to get their children potty trained younger and younger.
"Parents are potty training their kids earlier and earlier," Venokur said.
For some moms, potty training can not come soon enough. The latest trend in potty training is a system called elimination communication, in which infants as young as a few moths old are taught to use the toilet rather than wear diapers. According to proponents, even the youngest infant can learn to hold it until mom or dad can get them to a toilet.
Another trend in the potty wars are potty training coaches. Some parents are looking to professionals to help them get their children out of diapers as soon as possible. One such coach, Tammy Gold, says time is often an important issue to parents of toddlers.
"I think that– parents absolutely make potty training about them. The concerns are definitely the timepiece. They're in a great deal of rush to get this done," said Gold.
While many parents are caving to the pressure to get their children out of diapers as soon as possible, some experts warn that this might not be best for toddlers. According to child psychiatrist Ned Hallowell, some of the extreme methods parents have used is comparable to child abuse. But that isn't stopping many parents from doing whatever it takes to get their children potty trained as soon as possible. – Summer, staff writer
Related Articles:
---
[ad]