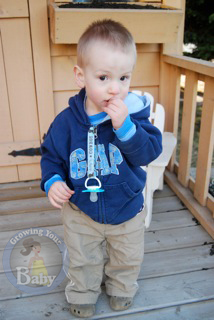 Bebe Belay makes a multifunctional clip($6) that can serve as an instant bib, connector clip, and pacifier holder.
Because I am always looking for the perfect 'sucky' clip for my son, I jumped at the chance to try it out.
Offered in 9 different custom printed patterns, the Bebe Belay features nickel-free metal construction that won't irritate or bruise your baby's skin.
I love this! The problem we have had with my son's current clip is that it's a traditional clip that sticks into his chest if he sleeps in the wrong position – which seems to be always, leaving him with tiny little bruises on his chest. Because the Bebe Belay sits flat, this doesn't happen.
It also cleans up nicely (soaked in dish detergent) when he gets smushed carrots, soup or anything else that doesn't make it into his mouth on it.
Plus since getting ours, I have been stopped numerous times by other moms who though that it was cute – and I agree!
Additional information:
The 5/8″ width, custom printed, grosgrain ribbon meets Swiss Oeko-Tex standards for human contact safety
The fully extended product length is 10 inches
Meets Consumer Product Safety Improvement Act (CPSIA) requirements for mechanical integrity, flammability, and materials of construction safety for children ages 0 – 3 years
Available for purchase at paisleymonkey.com for $6
Some of the custom patterns available:

*Thank you to Bebe Belay for sending us a Giddy up cowboy clip to test*
---