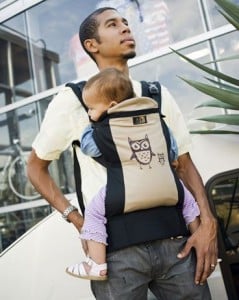 The Beco Butterfly is a duo-purpose baby carrier that was designed for carrying your baby on the front or your older child on your back.
It's versatility, modern look and variety of patterns make it a good choice for parents who want to wear something that will evolve as your child gets bigger.
We opted for the Butterfly DUO organic collection in Sand. This pattern features a Sandy beige panel with dark brown screen-printed owl motive. This is great for parents who are hoping to have more kids because it can be used for both sexes.
From the minute I put this carrier on I loved it. The straps are padded all the way down your back and are supported by a piece of fabric that crosses across your chest for a more secure baby wearing experience. A mid back support latch is adjustable for taller or shorter parents and the padded lumbar support.
The detachable hood offers privacy for a sleeping baby and protection against the elements on a windy or sunny day.
Carrying my 3-year-old on my back was easier and more comfortable than I had expected. Even though it took a bit to master the switch from front to back, when all was said and done we were both happy. Me, because my hands were now free and the weight was distributed evenly across my back. Him, because he could look around and see everything while being supported.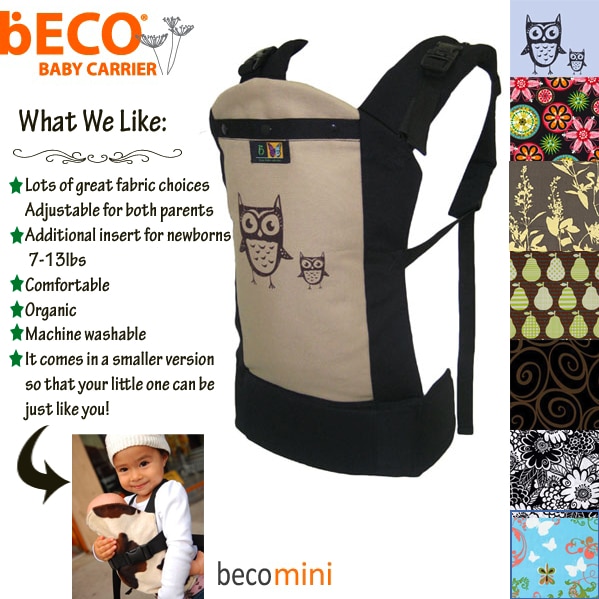 Additionally the Beco baby carrier is made of a strong durable material that is machine washable.
This chic carrier is offered in 3 collections. Here are the differences between the three:
HUES – Beco Baby Carrier designer fabric collection $140
10 fabric choices
Shell: 100% cotton OEKO 100 Standard Certified Fill: 100% polyester
DUO – Beco Baby Carrier organic fabric collection $140
5 fabric choices including 3 screen-printed owl motive
Shell: 100%

organic

cotton GOTS Certified Fill: 100% polyester
CUSTOM – Beco Baby Carrier exclusively produced for selected retailers $140
25 custom fabric choices
Shell: 100% cotton Fill: 100% polyester
Each baby carrier comes with:
removable head rest
removable infant insert
instructional booklet and DVD
Tips
Always try a new baby carrier on with a friend or partner. They can hold the baby and help you get everything adjusted for the first time. This will ensure that everything is ready when you are rush and need to just pop the baby in and go.

The

instructional videos

on the Beco Baby website are a helpful way for new parents to get a feel for how the carrier works. Those trying to decide if the carrier is right for them may want to watch how it goes on and adjusts.
Newborn to toddler (7-45 lbs/3.5 – 20 kg)
---
[ad]