As we all know, I'm a baby food making mama so I'm always looking out for tools that will allow me to easily make and store baby food.  I recently came across green sprouts by i play. Inc..  i play. was founded in 1982 based on values that prioritize protecting our earth and our children and their green sprouts collection features everything from toys and baby care to feeding.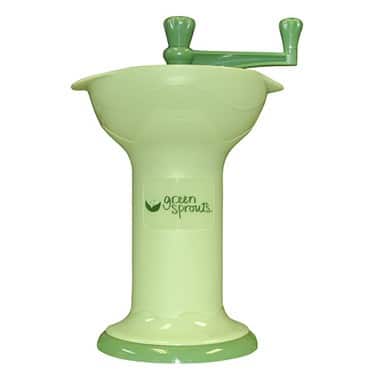 I recently had the opportunity to try out the green sprouts baby food mill and their new sprout ware collection.
The green sprouts baby food mill is perfect for making purees from fruits and steamed veggies.  The holes on the mill are bigger than most mills which makes it easy to clean .  The result is small chunks of food that can be easily consumed by an infant who's moving to the next stage from totally smooth purees.  The mill is great for veggies like sweet potato and avocado or fruits like banana or mango.  It separates seed and skins from the puree making it worry free.   It's easy to use and easy to clean (its dishwasher safe) making it perfect for a busy parent. I also love that it is relatively small, light weight and doesn't require electricity making it easy to travel with – I wish I had, had it on a recent vacation when I was forced to purchase processed baby foods.  I have, however, found that it can leak so I've learned to place a plate or bowl underneath it to collect the liquids.
The newest addition to the green sprouts collection is Sprout Ware.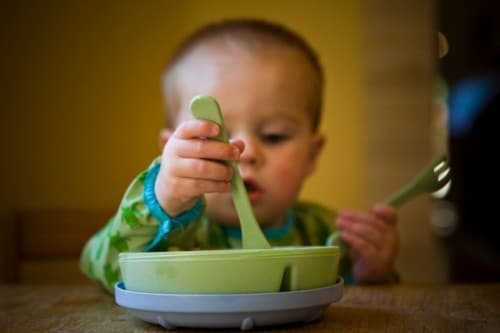 Sprout Ware is multi-use disposable dishes and cutlery made from plants. All items are petroleum free and can be used up to 10 times in the dishwasher or longer with hand washing. I love that the collection has sets for boys (blues, greens, oranges) or girls (pinks, purples, greens) all in pastel colors made from food safe dyes.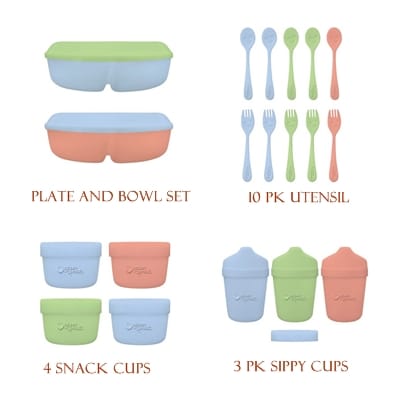 I am also very fond of the plate and bowl set. The bowl has 3 compartments (perfect for picky eaters who don't like their food to touch) and it's deep enough to house a full meal. The dual functioning plate is also a screw on lid for the bowl which makes it easy for lunches on the go (I use it all the time to take lunch to the babysitter).  I like that they are petroleum free, but wish they weren't disposable. I have been hand washing them to prolong the life, so hopefully they will last a long time. The matching cutlery and drink ware make the collection a must have!
In addition to the pieces we tested, iplay also offers kid friendly dishware that is made from bamboo, cornstarch and silicone. Whether you're looking for feeding items, like me, or toys and baby care items check out the green sprouts collection to meet your needs.
Related Articles:
---