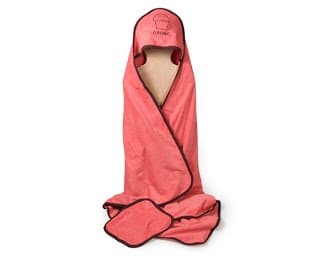 I received a "Kee-Ka Cupcake" package from a friend after recently having a baby. I had never heard of the product but I am thoroughly impressed with the quality and design.
Each gift is packaged in a ready-to-mail eco-friendly-package, making gift-sending a snap!
We received the adorable pink and brown hooded towel ($50.00) and face cloth which seems to get softer every time I wash it.
The vibrant colours have have held up exceptionally well and the size is perfect for washing and drying a little one.
I also received a "burp and bib" set and a "onesie outfit" set ($48.00), both individually packaged in their own organic packaging and both adorable.
The organic cotton is soft and washes well.
Kee-Ka not only provides tasteful & fun gifts, but also offers eco-friendly gift options for babies, toddlers and pets AND gives back to community groups who support sick children and other relief causes.
Check out their website: www.kee-ka.com
~ Written by Cari, GYB Contributor
---
[ad]