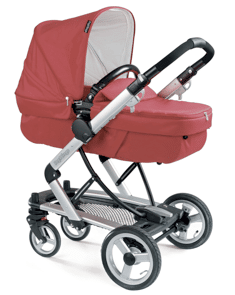 While at the ABC trade show in Vegas last September, I fell in love with this stroller as soon as I saw the demo.
Everything about this stroller excited me. The fabrics, the features and the handling.
Over the last few weeks, we have been testing one out. I have played with every gadget, option and button.
Here is what I found:
Installation: Not too Bad! When the stroller arrived I needed to put the wheels on(they clip in), put the 5- point harness together and pop the bassinet in.
The Skate instructional manual is excellent for describing exactly what needs to be done. It takes you through the entire process step by step, covering every feature the stroller has.
The bassinet comes in infant mode because most parents who will be buying this stroller will be doing so for a new infant.
Getting Started – This stroller unfolds so easily with just one lever. Once you unclip the side locks and fold the handle bar up, simply put your foot in the 'fold' lever and the whole frame will slide up. Once in place you will feel it lock.
Comfort and Features – The Skate has 3 height positions for the bassinet, infant seat and toddler seat mode, plus there are three recline positions when in toddler seat mode.
The bassinet is so spacious than my 2 year old is able to lay down in it comfortably with room to spare on the sides. In less that 20 seconds parents, caregivers or grandparents can convert the bassinet into the toddler seat with the 3 straps provided for an upright stroll if necessary.

I love the generous size of the bassinet's hood. It provides privacy for a sleeping baby and also some extra shade from the sun, if cruising upright. The extra zipper sewn into the middle hood allows parents to shorten the hood's range without the whole thing looking sloppy.

Also included with the stroller is a rain cover, which easily zips into the inside of the hood.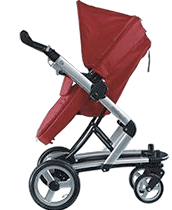 My son absolutely loves riding in his Skate. This is the first 'facing me' stroller we have had and it is nice because I can see what he is up to. It makes it easier to give snacks, bottles and toys to play with while we are out shopping. I find that he doesn't get as fussy when we are out because I can talk with him face to face as opposed to talking to him without seeing what is happening.
The bassinet is able to be faced out or turned to face you.
Instead of using a traditional 5-point harness, Peg Perego uses a 'freedom of movement' 5-point harness that is not fastened to the seat of the stroller. While I like that my son is able to move around more freely when we are out, I would prefer a harness that keeps him more in order.
The robust wheels and strong aluminum frame make this stroller REALLY nice to drive. Steel ball bearings incorporated into all four wheels provide easy rolling and smooth, responsive steering. The front wheels swivel or lock, and the rear wheels have air-filled inner tubes (a convenient air pump is also included).
The Skate's ability to turn on a dime is a nice feature to have while out at the busy mall. I like that I am able to push it easily with one hand, if my son needs me to carry him.
The telescopic handle can be adjusted for parents of different heights and the adjustable-angle handle eliminates undue stress on your neck and back.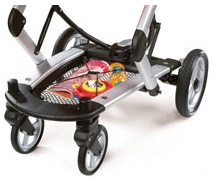 Storage – This stroller doesn't have a storage basket, it just has an elastic tray on the bottom with 2 bungee cords to hold your goods in. I was skeptical about this setup because there are no sides to hold bags in, just the cords. I tested the whole thing just before Easter while out picking up some last minute things. I was pleasantly surprised at how much stuff this tray holds. As I kept buying, it kept holding – securely.
Extra Storage Tip: If you purchase the matching Borsa skate diaper bag, you can secure it to the bottom of the stroller to give you sheltered storage or attach it to the handlebars for easy access to bottles or toys.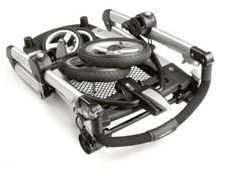 Travel – All 4 wheels detach to reduce the size of the skate for traveling. Would I bring this stroller on a plane? NO! It is not that I don't think the Skate could do the trip because I know that it would travel just fine, my worry would be about the condition it would arrive at your destination in. I would never allow a baggage handler the opportunity to destroy my stroller because he is in a hurry and the plane needs to be loaded quickly.
However, I would change my mind if Peg Perego introduced a strong travel bag for the stroller to go in. At this time, nothing like this exists.
Additional Accessories – This stroller comes with a cup holder, foot muff and rain cover. The Borsa skate bag and Primo Viaggio SIP Car Seat are also available at an additional cost.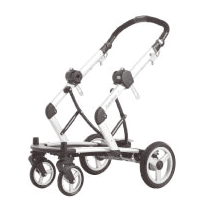 Two adapters are included with the stroller for Peg Perego's 30/30 Primo Viaggio SIP Car Seat. Parents of sleeping newborns will appreciate how easy it is to transfer their precious cargo from the vehicle to the frame of the stroller.
As I go through all of the features of this stroller, I can't help but feel like Peg Perego has thought of everything when designing the Skate.I would highly recommend the Skate to any parent. This stroller has the ability to grow with your family from newborn up to 40lbs.
The bassinet's ability to convert from a secure space for your infant into a comfortable upright seat for your toddler is definitely a huge selling point. This feature reduces the need to store extra stroller gear as your child gets older.
At a rumored price of close to $1000, this stroller falls into the splurge category.
The one thing you should remember is that it exceeds any product in it's category, making it the better choice for parents who are looking for a stroller that is going to last.
Stats and dimensions:


More information can be found at Peg Perego's official Skate website.
---
[ad]