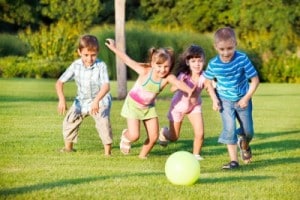 Physical exercise is important, especially with the growing obesity rates. But increased exercise should not lead to poor sun-safety practices. Poor sun-safety practices can eventually lead to skin cancer. What's more, severe sunburns can result in permanent skin damage and even death; this risk is increased when the sunburned individual is a child. Because of the risks, the American Academy of Pediatrics has recommended that physicians start counseling their patients on the importance and use of sunscreen.
Despite the new recommendation and growing information on the importance of sun-safety, it seems that children may not be any more protected from the sun, even if the family physician counsels the parent and child. Even more concerning is that physically active children are actually twice as likely to suffer from sunburns as children who are not very physically active.
Dr. June Robinson, a dermatology professor at Northwestern University Feinberg School of Medicine and lead author on a study that evaluated the sunburn counseling practices of three different pediatrician offices and the effect of that counseling says she wasn't surprised by the results. Unfortunately, those results mean that something more needs to be done.
"Physicians are in the habit of writing prescriptions and advising how to use medication," Robinson said. "It is a huge step for physicians to take the step of engaging the parent/child in the decision to change the behavior."
Thirty medical staff members were questioned at three pediatrician offices – all located within the Chicago area. Physicians asked the members about their recommendations regarding sun protection and compared the level of counseling offered at each office.
At the office where the most extensive counseling was offered, physicians provided counseling year-round, at regular check-ups, at physical exams, and when children came in with sunburns. Information given included seeking shade, wearing protective clothing and on when sunscreen should be worn and reapplied. The office where the least extensive counseling was offered only advised family about sun protection if the family was preparing for a trip or if the child came in with a sunburn. What's more, only information on wearing sunblock was given. The third office fell somewhere between in the first two.
Researchers then spoke with 100 parents who had children between the ages of 9 and 16 that had visited one of those three offices. Parents were asked about their children's behaviors – how long they spent in the sun, what time of day they went out in the sun, whether or not they had used sunblock, and how many sunburns they had had.
After compiling to data, the team found no difference in sun-safety practices between the children who had visited the office with the most extensive counseling practices and the children who had visited the office with the least extensive counseling practices. This was true even after taking factors like the child's age and skin tone into account.
Robinsons says that part of the problem may have something to do with the fact that information on exercise and sunscreen was given separately. She also says that the communication style may need to change to make the sun-safety behavior changes more effective.
"Communication by physicians with parents in a way that incorporates the principles of motivational interviewing, a patient-centered technique that attempts to engage patients in order to find reasons to change behavior that resonate with each individual, may be more effective in promoting behavioral change than admonitions to use sunscreen," Robinson said.
But not everyone is convinced by the new evidence. Lori Crane, professor of community and behavioral health at the Colorado School of Public Health, found through a previous study that patients were more likely to adhere to sun-safety practices if their physicians provided more extensive counseling. She says that the study conducted by Robinsons and her team leaves room for error.
"The methodology in (the current) article is not really very strong for coming up with this conclusion that sun protection counseling doesn't have an effect," Crane said.
Robinson did admit that there could be error in the study, but that "since these are stable and well established practices, the pediatricians have a continuing relationship with the families and have counseled prior to the survey."
Dr. Richard Roetzheim, a professor of family medicine at the University of South Florida says he "wasn't really convinced by this study that counseling doesn't work" either. He did say, however, that he is happy to see a study like this one.
"I think physicians are increasingly being called on to change patients' behaviors," Roetzheim said, adding that it's important to see what works.
Related Articles:
---
[ad]